Using reclaimed or re-purposed wood for making furniture is a novel idea. It is a great way of reusing wood and saving natural resources. The re-purposed wood offers an antique or rather vintage look, which adds to the charm of your bedroom. Using re-purposed wood is also an eco-friendly option for us. If you do not want to spend heavy sums of money in building a headboard with the help of professionals then do it on your own.
This way you will be able to express your creativity and test your artisan-ship. Even if you have never undertaken DIY furniture project before, you can do it now. In the following paragraphs, you will find detailed help about making a headboard with re-purposed wood.
Make a plan:
No success will come if you move forward without a plan. This is true for every project and making a headboard with re-purposed wood is no exception. First, you need to check the amount of re-purposed wood that you have. Some homeowners become collectors with the desire to find unique looking reclaimed wood for making their headboards.
You can also make variations and instead of using wood planks, you can use other antique and re-purposed woods. It all depends on your comfort level. If you confident about your artisan-ship and have handled DIY tasks before, then go ahead. Draw the shape of the headboard as well.
Do some homework:
First, measure the bed and the wall behind it. You need to determine the size of the headboard, which will help you collect right amount of materials and make preparations. The headboard should be proportionate with your bed or it can even be slightly bigger. Go online and look at headboard designs. Take printouts of your favorite designs and try to find a way for recreating those designs using re-purposed wood.
Choose a design:
The reason behind constructing a headboard is to give your bedroom more texture and increasing its warmth. The bed should be the focal point of the bedroom. If you cannot afford a luxurious bed, you should try making it look better by adding a headboard to it. There are many ways to make your bed look stunning with a re-purposed headboard.
For the bedroom of your teenager son, you can make a headboard with rowing wooden oars. Make a team with your son and go hunting for old wooden oars, which are not in use. Mend them and attach them with a wooden plank. Keep the wider side upwards. Different coloration of the re-purposed oars will make your son's bedroom look stylish and sporty.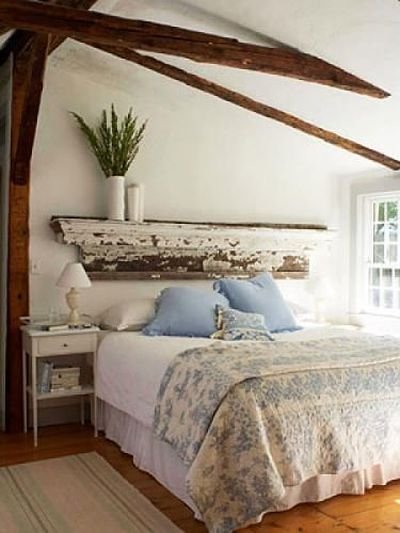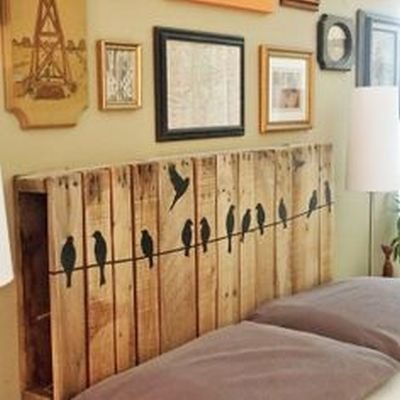 One of the reasons that make re-purposed wood so attractive is the stains woods gain during long usage. You can use leftover wood from different projects for making your headboard. The variety that their irregularities present will make your headboard look unique. Let the dimensions vary but you may have to cut some of the wood pieces using a saw for making them look more attractive.
Barn wood headboard:
For making a headboard with re-purposed barn wood, you will need used barn wood, wood screws, leg boards, sanding sponges, scrub brush, bolts, saw and a drill. You can mark the wood planks with pencil so that it is easier for you to cut them later on. You also have to attach the scrap wood pieces carefully at the right places.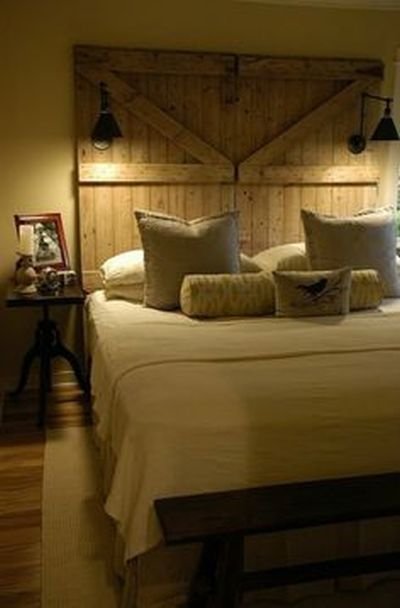 Be creative:
Wear your thinking cap and create a unique headboard using the re-purposed wood pieces. By using a thick plank, you will be able to keep flower vase on top of the headboard. You can use wood pallets or fence too for making the headboard. Some people also paint bright flowers on the wooden headboard.
Choose flowers like poppy for drawing inspiration. Bright earthy hues work well with the wood colors. You can make holes into the headboard for fitting lights. This will help in reading at nights. Instead of horizontal design, attach the wood pieces in vertical manner.
Methodical progression:
Every DIY project is a methodical progression. First, you need to cut the wooden pallets, planks or pieces at the correct size and then make holes for inserting the bolts. You can use a hand drill for making the holes at particular distances. Novice DIY doers will find it easier if all the wooden pieces are cut proportionately.
Carriage bolts are good for this type of projects. If you want the wood to look better then use a stain of your choice in a color that matches the existing décor of your bedroom. Some people also paint the wall to match the new headboard.

Headboards make your bedrooms attractive. Using re-purposed wood for your headboard is a cost effective and eco-friendly way of decorating your home.