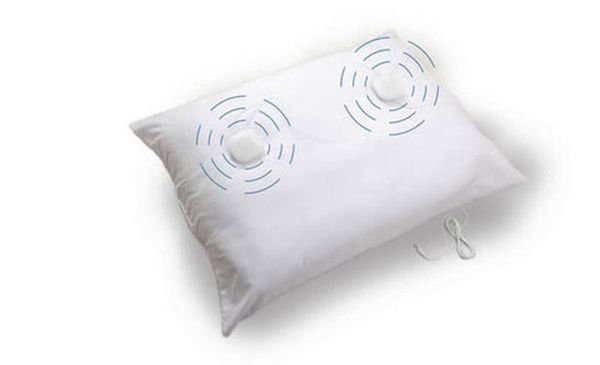 Previously we talked about weather forecasting pillows visually exhibiting their own set of graphical interface. However this time around, we have something which can be categorized under the auditory scheme of things. The conception is question is the Sound Oasis Sound Therapy Pillow, which as the name suggests is a pillow design with a couple of speakers embedded inside it.
According to its creators, the conventional 20″ x 26″ (51 cm x 66 cm) pillow is furnished with hypoallergenic polyester fiberfill, along with soft brushed covers for optimized user's comfort while sleeping. Of course, this is where its path to conventionality ends. Coming to the technological side of affairs, the pillow has two ultra-thin speakers fixed deep inside it. These speakers can be connected your ever trusty smartphones or MP3 players via an inconspicuous cord. So, after the whole contraption is set up, you can play and sleep to your favorite tunes all throughout the night, while your reverie filled relaxed head lies across the soft music emanating speakers inside the pillow.
Now, as far as the quality goes, we cannot obviously expect the same level of audio provided by high-end systems. However, the designers have tried to make up for this with the conception's improved degree of user convenience. In this regard, the pillow features an intuitive in-line volume control mechanism. Moreover from a practical context, we can actually remove the speakers fully from the pillow while washing it in machine or by hand.
Price: $49.99 (as listed), $37.69 at target.com
Via: Sound-Oasis