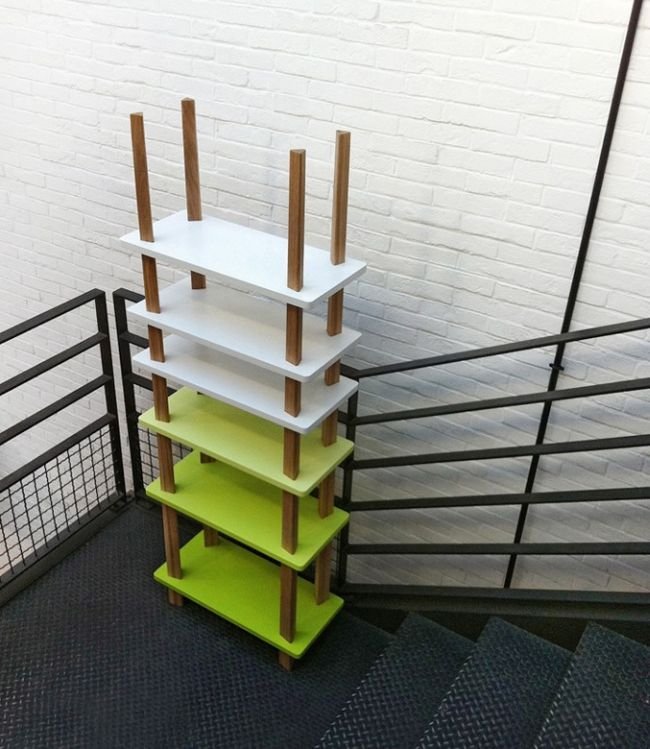 The majority of shelves we see tend to come with screws and rivets to hold the individual pieces together. However, Czech Republic based Lucie Koldova and Dan Yeffet have come up with a brilliant way to create a free standing shelf which does not have even a single screw on it. Enter the Stix Shelf, a shelf that could well become a mainstay in every household in the near future.
The Stix Shelf is a free standing shelving system that features wooden shelf plats and triangular shaped legs, which actually take the shape of a cone. The legs taper towards the top of the shelf, with the holes in each level of the shelves cut according to the specific dimensions needed for proper placement. The result is a shelf system that seems to stand on its own without any screws or support.
Arrangement of the Stix Shelving System:
One may find it confusing to notice how the individual shelves in the system seem to stand on their own without falling on top of each other. A closer look will reveal the secret behind this self-stabilizing shelf. The triangular legs are in fact conical in shape, tapering lightly towards the top.
The holes carved into the shelves for the legs to pass through are carefully measured and cut according to the required height and distance between two slats. Once this is done, the slats are inserted into the legs one by one in a descending order from bottom to top. The slat with the largest hole goes at the bottom, while the one with the smallest comes at the top.
The Stix Shelf is currently available in a wide range of material and color combinations. While the legs can be made of metal, the shelves can be painted in a myriad of attractive shades.
Source: Luciekoldova