It all goes back to 1933, when moka pot introduced the world to some of the most iconic coffee makers. The moka pot some say, produces coffee that is almost similar to an espresso since it manages to extract caffeine in large amounts. But if you are looking for a pressurised machine version, you need to look elsewhere. We are talking about talking coffee at  its finest brewed state here.
Joey Roth, the designer who has the fame of making the most stunning ceramic speakers, has teamed up with the guys at that Blue Bottle Coffee to reinvent the Italian classic moka pot, to produce the new, shining and ever improved Blue Bottle Moka Pot.
The design might look all-modern, but it sure brews up a cuppa similar to the traditional cup you are so used to having. Just start by pouring hot water in the bottom most chamber made out of steel. Place ground coffee in the chamber above it, and then place the ceramic chamber used for serving right on the top.
Place this dainty looking pot on the stove-top and let it boil. Once the water will start boiling, the steam will pass through the ground coffee and reach the spout on top. Since the spout is made of ceramic, it will not heat up quickly; nor will it cool down in a hurry. Hence, the coffee will brew slowly and steadily and will not get muddy at all. The chamber made out of porcelain will not allow the coffee to cool down, and you will be able to enjoy it to the fullest.
Another feature that makes the Blue Bottle Moka Pot worthy of a pre-order is its interesting pouring rod. It is fixed right on the side of the brewer, and has a very sturdy cork handle that stays cool no matter what. It makes pouring of the coffee very easy, and as an added bonus can also be fitted with an Aeropress filter, to improve the clarity of the coffee.
Although shipping will start next month, January 2015, if you like what you read, you can a pre-order now for $100. This reinvented classic is all set to spruce up the morning coffee ritual of so many of us. In the past moka pots have been the target of derision among coffee lovers due to their unstable temperatures for brewing and coarse filtration. The modern day Blue Bottle Moka Pot puts all such fears to rest, thus becoming exemplary in terms of intensity and clarity.
The humble Blue Bottle Moka Pot, has got a make over with some clever re-imagining. The sci-fi design combined with the superior utility is sure to impress coffee connoisseurs worldwide.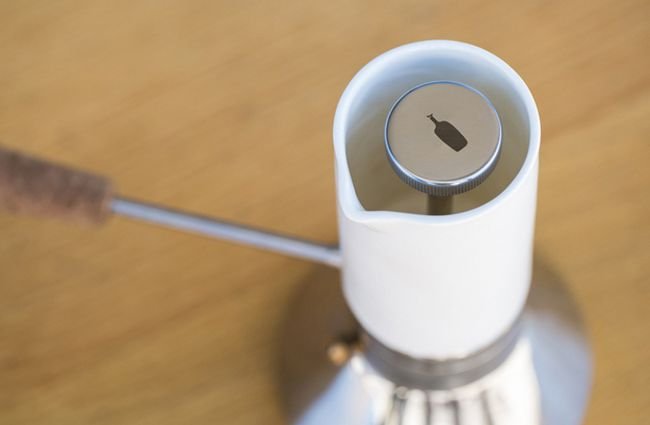 Source: Bluebottlecoffee