For the vagabond at heart, a cabin in the woods suffices a longing to be close to nature. By the time you finish reading about this portable home, the urge to design one for yourself might be too strong to ignore.Selby had always been excited about the idea of custom designing a school bus into a personalised cabin. On his travel journeys he had often thought about it. But when the opportunity did arise he was surprised out of his wits too.
Steven Selby, has actually designed this cabin from a school bus, using dirt wood and other cast off materials. Amazingly the transformation of the bus into a personalized cabin did not cost more than $3,000.
He got into a collaboration with Brent McGregor, a furniture maker in Sisters, Ore. Selby and McGregor were able to transform the common blue bus into a home on wheels in a years time.Selby started off by first sawing off the roof of the bus and raising it with the help of 2 by 4's. The wooden framework was later given a retro look by covering it with a chipboard that has 60's style shingle pattern on it.
The interiors were entirely done up by using cuttings of Cedar and old Redwood. The ceiling was treated with the red wood and even the basic furniture like tables and worktops were made of wood. The cabin windows were styled by using second hand stained glass. Everything that went into this cabin was either bought from a garage sale, second hand store or found lying around.
Selby had full freedom to run his creative juices wild. Once the designing was complete he was totally impressed with the final product. In that small short bus he had managed to make space for a kitchen, living area, a loft bed, a bathroom and his very own stove to burn wood.
After touring the Pacific Northwest in this home on wheels, Selby has sold the cabin and settled down in Belize. A home on wheels is a crazy thought that rings a note with those who like to be out and free.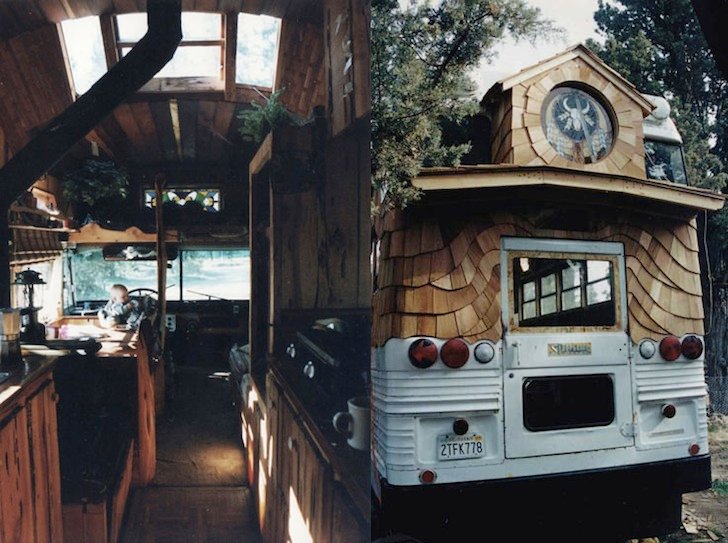 Via: Inhabitat