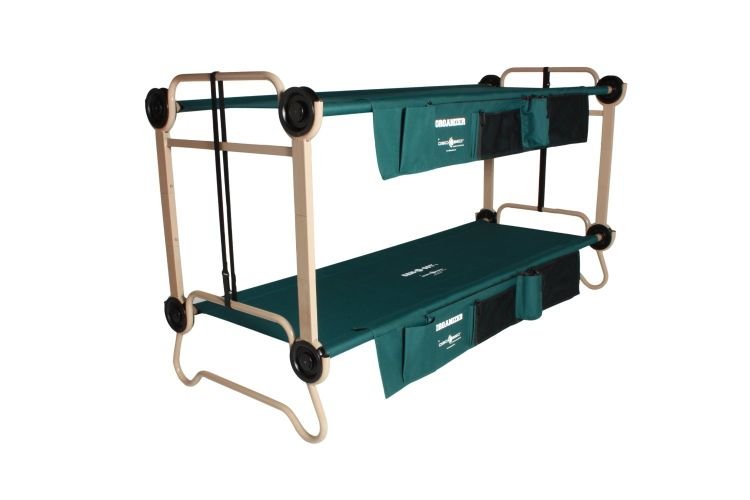 Since 1988, the team at Disc-O-Bed, has been challenging themselves to design cots that elevate comfort level to a new high. The Disc-O-Bed Cam-O-Bunk Cot, is another feather in the cap for this family owned business. Disc-O-Bed is a well established name for Emergency relief and supplies for troops worldwide.
Disc-O-Bed Cam-O-Bunk Cot is a tough, easily transportable, easy to assemble and comfortable solution for sleep. It can also be modified into an outdoor seating unit or the simplest of beds to just unwind and take in the surroundings. If you thought when out in the open space would be compromised read on further.
The design of this product is customized to take care of all extreme situations that might arise. When planning your next outdoor adventure be sure to order your Disc-O-Bed Cam-O-Bunk Cot well in time. Have an invigorating day outdoors and come back to the most comfortable and spacious bed. Choose between the Cam-O-Bunk X large or XL Extra large.
The sleeping deck could easily surpass all other designs in the market today. This bed will fit in any kind of tent without a hitch. The rounded frame ensures that the bed does not touch the ground. The ground clearance is actually 11'.  The assembly is possible without a tool kit and is as easy as fitting a modular disc in a groove specially designed for it.  The beds are convenient for people of all ages as the head space between two beds is 28', which can be increased by another 7' with the help of extensions.
What makes this bed a great buy is the storage space that comes along with it. You get storage below the bed and a huge organizer on the side. The tent will be clutter free and all your stuff will be neatly placed. The height of the bed has been designed keeping in mind the standard size of tents. The rust resistant and powder coated steel frame is strong enough to handle weights upto 500lbs. Storage is simple too, just disassemble the bed in one quick action and place it in its compact bag.
Let's keep it simple, order a pair today, and make sleep solution worries a thing of the past. On a bright day, just fold the bed to make a couch and enjoy your favorite book.
Buy – $320 (at Amazon)