Are you a parent with small children at home or a teenager who just got hooked onto getting fit or an adult who expects to have a long, healthy disease free life? If you fall in any of the above categories, then you will also readily agree that personal hygiene starts with washing of hands. The iWash faucet is aimed at aiming at making washing of hands a much more satisfying and effective ritual. Once you install this faucet in your home, you will be surprised to see that all family rmembers will display a renewed vigor for washing of hands.
The iWash faucet has a transparent screen that visually displays the germs and bacteria in your hands. As you lather your hands you will see them disappear out of your sight. The iWash is designed to motivate people to stay infection free by washing their hands regularly.
The designers Pei-Chih Deng, Yan-Jang Cheng, Mu-Chern Fong and Hui-Chuan are confident that the iWash will create cognizance in the general public and make self sanitization a rewarding experience.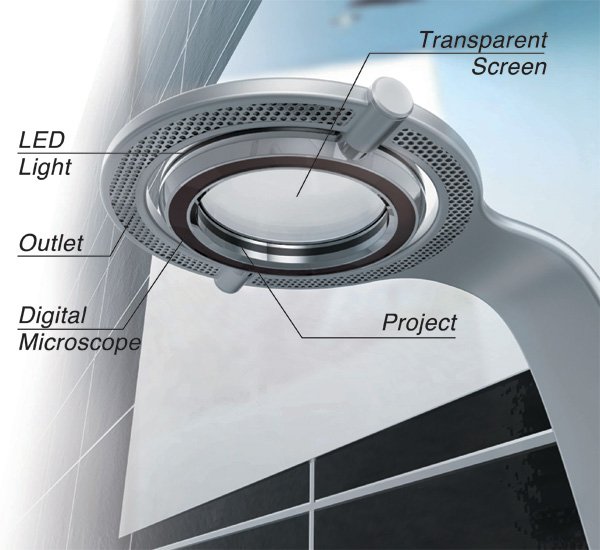 The design of the iWash is collaboration between Project technology and a Digital Microscope. The visual display of the eradication of germs clearly reiterates the need for regular cleaning of hands, in order to remain germ free.
The images of a digital microscope are synced with a CCD cam in order to generate a digital image on the monitor. The moment you put your dirty hands underneath the faucet it turns on. The infrared red sensor goes red and starts displaying the images on the screen. As the bacteria are eradicated, after a ballpre set time period the faucet stops and turns green.
The iWash is an innovative tool for homes, which will inspire people to stay healthy and fit by washing their hands regularly and properly.
Via: Yankodesign