Music in wood is a rare combination, but not an impossible one. Canadian designer Kino Guerin, has managed to design furniture that invokes the symphony of an orchestra.
These pieces of furniture look smooth and elegant. But spare a moment to ponder on the technical expertise that was involved in twisting a stiff piece of wood into something so fluid and stunning.
The husband wife designer duo, have won in-numerous awards and accolades. It seems they are on a mission to successfully wed their heightened aesthetic sense with practical usefulness of household objects. Their choice of medium further strengthens this belief and results in furniture never seen before and never heard before.
The master wood artisan with over two decades of experience likes to express the ballet like movements of the human body, through his creations of bent wood.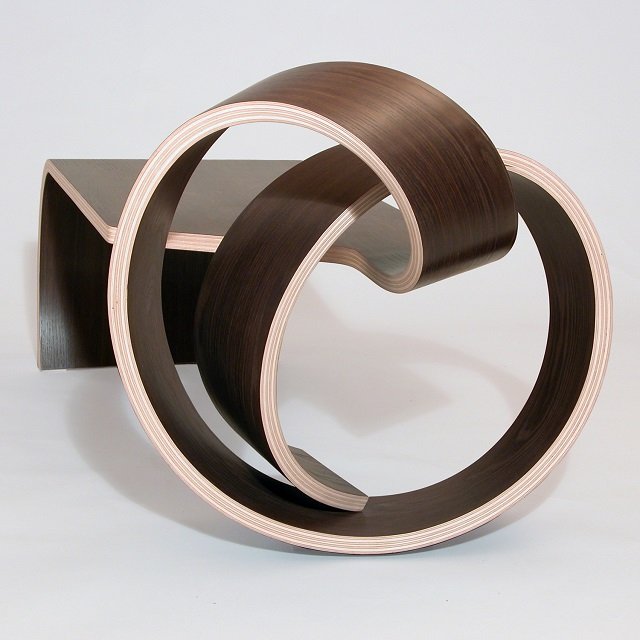 In his own words –
'By fixing a movement for eternity, it shows how existence is fragile and powerful.'
From the design house of Guerin have come skillfully handcrafted tables, shelves and other units of furniture. In his pursuit for perfection he uses different layers of zebra, noble, wenge and walnut veneers and combines them with curved plywood. The technical process implied for this bonding is press lamination. Do check out his website to have a more detailed look at his pieces. As obvious such exceptional pieces of art are not for the common peasants. In order to adorn your house with these beauties be ready to shelve out big moolah.
Finally, in this age of robotics and automated machines we have a designer who likes to follow his deepest instincts to design something so visually vibrant, that your vocabulary falls short of words to describe it.
Via: Hexapolis