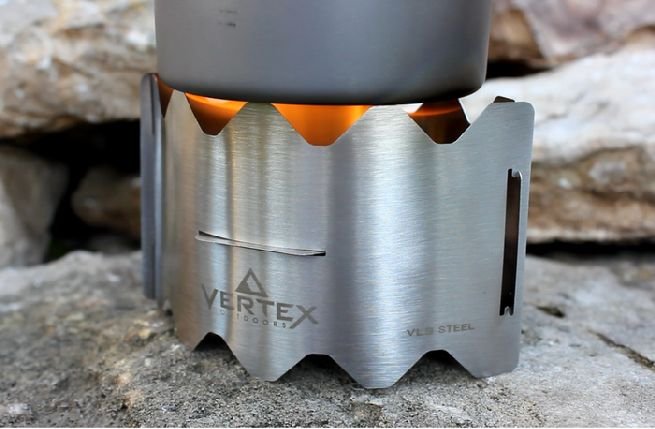 When it comes to products made for outdoor usages, we had the fortune of coming across quite a few innovative conceptions, be it a cloth washing contrivance or a LED light with a food platter. But what about a conception that deals with the primary function of sustenance, when you have adventurously made your way into the bosom of nature?
Well, the Vertex Stove showcases its virtue during such scenarios of camping and hiking, with its ultralight and versatile features.
Envisioned as a lightweight and compact product, the minimalist Vertex Stove just weights 1.8 ounces (50 grams), thus making it a perfect accompaniment to your backpack.
In fact, the form-factor efficiency is directly related to its uniquely curved design (made of brushed stainless steel) which allows a higher degree of strength to be contained in a small mass. Moreover, the stove has no moving parts and can be assembled in a matter of seconds.
Of course, since we are talking about a cooking component catering to outdoor usages, the factor of fuel efficiency remains crucial. In that regard, the Vertex Stove is tailored to utilize mainly solid fuel tablets.
There are benefits to these tablets, as they can be used in lower temperatures and leave no trace behind to the disadvantage of nature.
However, the versatility of the Vertex Stove is not just limited to this usage pattern. The contraption is also compatible with the more readily available alcohol burner.
Lastly, coming to the ambit of performance, the stove can achieve the boiling point of 16 ounces of water in around 7 minutes with a single fuel tablet of Esbit (under ambient conditions). These do entail pretty remarkable figures, especially considering the product's outdoor credentials.
The bantam Vertex Stove is currently going through its 'successful' Kickstarter campaign, with around $15,000 already pledged out of just $8,000 goal, and 20 days still to go. We expect the retail price to be around the $50 mark.
For more details, follow the Kickstarter link.