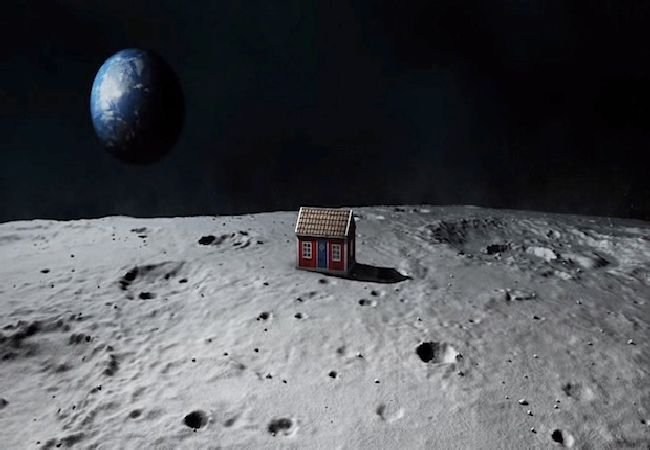 Here is some incredible news for those who have racked their brain cells and tried to visualize the first human dwellings on moon – the very first house on the barren lunar surface will probably look like the one in the above image! The unpretentiously named 'Moonhouse' will also be humble in its aesthetics, with a simple cottage-esque bearing that is complemented by the traditionally Scandinavian 'Falun Red' painted facades along with minimalist white windows and a front door.
Conceptualized by Astrobotic, an American aerospace company, the Moonhouse is currently in its crowd funding stage, which was resourcefully initiated by Swedish designer and entrepreneur Mikael Genberg. And, as can be guessed from the parties involved in the fascinating endeavor, there is more to the design than just its simplistic embodiment.
To that end, the Moonhouse is envisioned as a 6 sq m art installation home that will have the remarkable capacity to self-assemble on reaching the surface of the moon. Unfortunately we do not have much details on this automated process; but what we do know is – around 75 percent of the building has been engineered to meet its moon-based specifications. The house will also have its intrinsic human-friendly environment by virtue of a specially designed space-cloth that will cover and extend over the carbon framework of the structure.
Finally, as for the commercial side of affairs, the Moonhouse has a crowd funding goal of a whopping $15 million, with each dollar contributing to 25 meters of distance being covered by the project. And, if the funding is successful, the tiny house will make its debut lunar journey during next year's October, on the SpaceX's Falcon 9 spacecraft.
For more details on the endeavor and its funding, check out the Moonhouse's commercial site.