For those who are uninitiated with the term 'gumno', it was a special barnyard space encompassing a circular-shaped floor with low wall enclosure that was used for threshing crops, and also doubled as a meeting point for elders to celebrate and even have high-priority discussions. Turato Architects have taken this antiquated spatial scope, and exuberantly extended upon it to design the aptly named Gumno House. The result is a postmodernist-style residence that is accompanied by an 'authentically' dilapidated gumno space.
These gumno is actually one among many in the idyllic village of Risika, which is located on the island of Krk in Croatia. A longtime couple decided to take advantage of such a historical structure, by expanding the available area around it with a flurry of incredible outdoor-spaces, including a well laid-out garden, an orchard, an olive grove and a house-connecting driveway.
The residence emerging stylishly amid the flourishing landscape, was originally envisaged as a summer house where the owners can reconnect with their friends and even village folk. To that end, the architects endowed the building (already supported on an upper level) with a subtle essence of verticality – thus transforming the Gumno House into the focal point of the compound. This postmodernist structure complements the surrounding bucolic scope, which results in a heterogeneous space with variant usage patterns and experiences.
The residence-design itself mirrors this disparate style – with the imposing basement, the transparent ground floor, and the overhanging cubes along the upper floors. These refined spatial configuration accounts for a wine (and oil) cellar with a konoba, an extended glazed living area for the family, four private rooms (with terraces) for bunking, and a swimming pool in the front with sweeping views of the proximate Adriatic Sea.
This is what the architects had to say about the user experience expected to be derived from the paradisiacal Gumno House –
On the one hand, the Gumno house provides tranquility and calm private use of the vacation house, but, on the other hand, it is easily transformed into a rich structure containing a series of gathering spots for a large number of people, numerous friends of this cheerful and social family.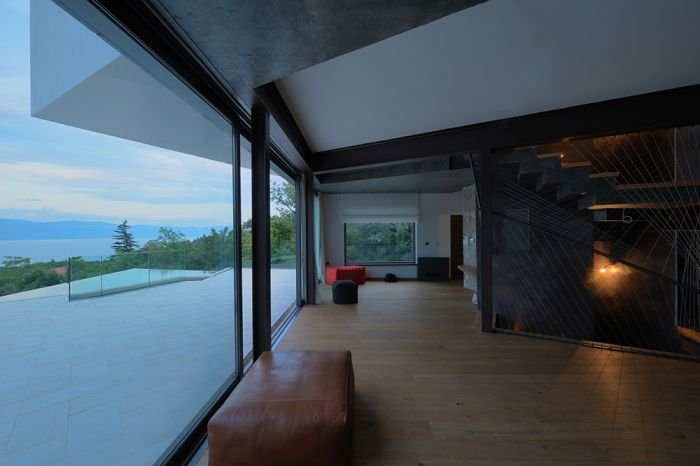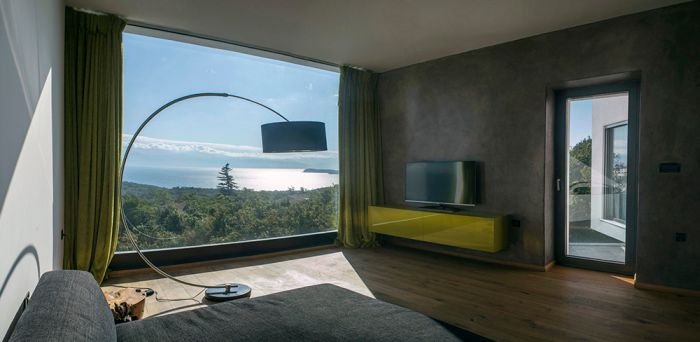 Via: Mocoloco