In these modern times, none of us have the time to dedicate to the running of a conventional fireplace at home. Instead more and more consumers are today considering investing in a table top fireplace. It is easy to install, operate and has no conventional hassles like soot, ash and smoke.
Today we bring for you designs of eight such table tops, that are sure to catch the attention of all at home and read warmth to the interiors.
1. Moda Flame Vigo Ventless Table Top Ethanol Fireplace
This ultra-modern ethanol fireplace has a design that is sure to impress one and all. The glass panels that surround it allow the fire to be visible clearly. It can be used both outdoors and indoors. The design is such that it allows you to literally add fire to any setting.
This compact scheme suits most interiors, and can be easily placed on a hearth made out of masonry or a conventional fireplace. The bio-fuel it runs on is easily available on all leading websites. For the price you pay for it, the fire burns for almost three hours, and there are no odors whatsoever.
Buy – $76.99
2. The CAVO Tabletop Ventless Fireplace in Black
Transform any dull evening and uplift the spirits with this table top fireplace from CAVO. This arched fireplace has two glass supports, and once ignited resembles a floating fire. The design looks very elegant and sophisticated. It is the perfect gift for somebody special, as it is easy to install and light weight.
The fireplace looks apt for a small family, condo or even a hotel room. It uses a denatured ethanol fireplace fuel, which emits no fumes on burning and is completely environment safe.
Buy- $149.99
3. The Tabletop Fireplace from Irradia
This very stylish looking tabletop fireplace is made with top quality tempered glass and has a burner with almost 8 liters capacity. It comes with its own personified snuffer tool and runs on environment friendly bio-ethanol fuel.
On igniting it, it seems that the steel burner is floating between two panels of tempered glass. The fire is visible from any corner of the room. Since the burner is linear the fire seems to dance and drift at will, creating a visual delight.
Buy- $109.00
 4. The Outdoor Great Room Company present the Allure Sedona
 This tabletop fireplace is made with the revolutionary Venturi Flame Technology, in which a turbo disc is combined with a custom designed glass cylinder to create a spinning flame.
It runs on a gel fuel which is alcohol based and can be safely used both doors and outdoors. The main unique feature of this fireplace is the flame that spins.
Buy- $152.99
5. Lexington Tabletop Ethanol Fireplace from Anywhere Fireplaces
The high gloss finish of this tabletop is very distinctive and resembles the real thing. You will not need any candles once you invest in this tabletop fireplace. There are no odors or the usual hassles of a conventional fireplace like ash, soot and smell. It makes a great centerpiece and can be safely kept on wooden surfaces too. The overall effect is very euro and the fire has a definite calming effect.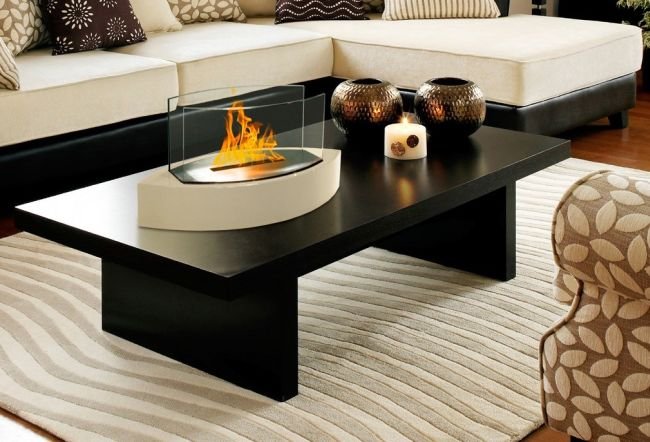 Buy – $169.99
6. The vent free ethanol fireplace in stainless steel from Metropolitan
This is a chic fireplace with a metropolitan model, perfect for small apartments. The front comprises of a tempered glass and the steady stainless burner, gives it multiple functionality. It can be easily placed on a stand, a tabletop or even inside an non functional fireplace.
The ambiance is similar to a real fire and the installation only takes 30 seconds. The product is durable, is light in weight and offers great value for its price. And to top it all it was recommended in the NY Times too.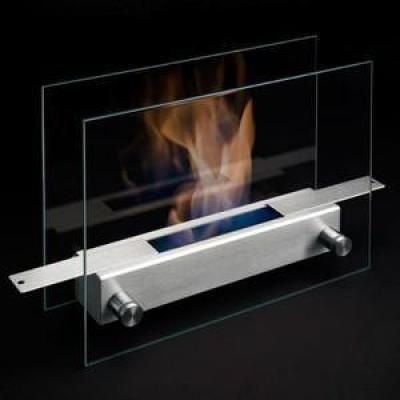 Buy- $160.00 
7. The Utopia Bio fuel ethanol fireplace from Indoor Outdoor
The Utopia is the perfect solution, if you are looking for a fireplace that is relaxing, romantic and warm. The swirling flame and the warm glow are sure to add charisma to your interiors. It runs on clean bio fuel and can be easily switched between a tabletop burner to a hurricane candle. It comes at a very affordable price and is perfect for both indoor and outdoor use.
Buy- $99.99
 8. The Empire Tabletop fireplace from Anywhere Fireplaces
Place this contemporary fireplace anywhere in the room and it is sure to make a dramatic statement. It is lightweight, easy to install and can be shifted from one room to another. The designers have kept the top slightly recessed in order to allow the user to place stones or shells or beads or marbles etc, close to the flames.
This personalized touch is sure to add warmth to the entire space. Unlike other fireplaces, it runs on fuel that comes in cans as a gel and has its very own long handles stainless steel snuffer.
Buy- $120.00