French engineer Deltour Olivier has come up with an innovative wall partition system that doubles as a table and triples as storage or shelves. Made out of wood, the multifunctional unit is movable that the user can install or collapse with ease. Named the "Twist," this movable partition cum storage unit does not require any screws or rail for installation.
Olivier lived as a tenant in a small apartment with restricted space. There he was inspired to create the Twist wall system. The conventional partitioning methods block the light and divide the apartment in to small spaces, making it further cramped up. Small apartments, like the one occupied by Olivier, is generally taken by tenants. The lease agreement bars the tenants to make modifications in the house. Even if allowed, not everyone can invest in a renovation. Instead of putting up walls or drawing curtains, Olivier invented the partitioning cum storage solution, which does not block the light either.
Made from wooden brackets, Twist can be pressurized between the floor and the ceiling as a partition. Two screws protruding out of the Twist with a lever on a spring fixes the wall system between the floor and the ceiling. Two shelves and the table on the unit shift around from one side to other, giving the user flexibility to move the rows on either side of the wall.
The lowest row is the table as it has the maximum width. Three glasses with the same width as of the table and the shelves complete the Twist. You can place them on the rows or increase the storage by placing the glasses on the opposite side of the rows by simply turning the last brackets on the other side. This way you can double the storage on the unit. In addition, you can use a wooden bracket from anywhere in between to hang clothes.
The Twist is one of the best solutions for partitioning in places with limited space and the storage solution is another feather in the cap.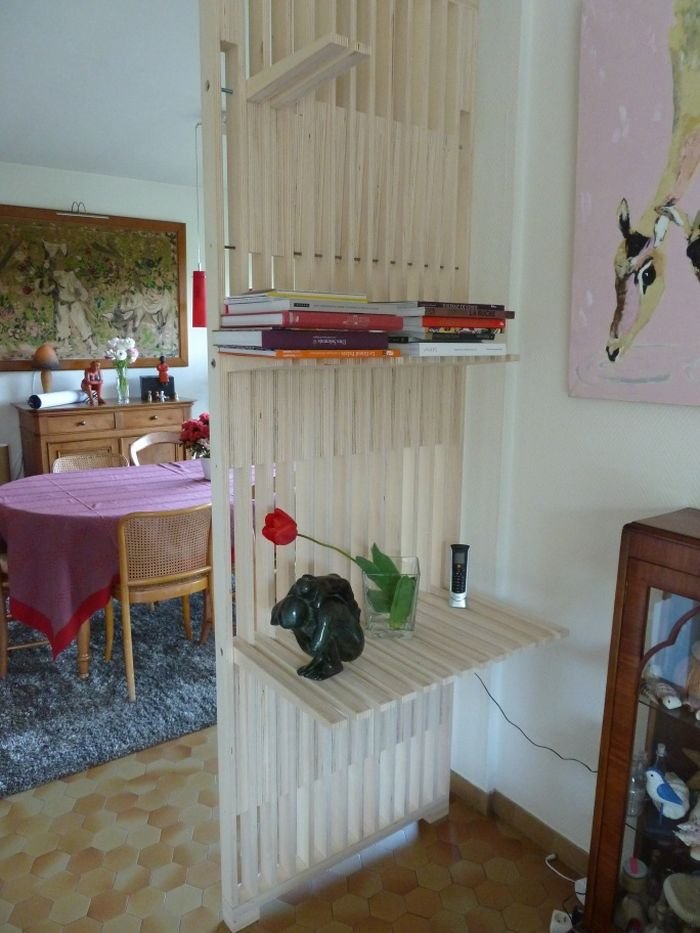 Source: Jamesdysonaward