Previously, we had talked about 3D printing technology making its foray into unique designs like lamps and bird-feeders. However this time around, aesthetics is combined with purpose, and the exclusive end result is the world's first 3D printed vacuum cleaner – courtesy of South African designer extraordinaire Hans Fouche (along with Kobus Van der Walt and Adam Oxford).
In fact, the team's vac design doubles up as a flower vase, thus adding another functional dimension to the groovy specimen. This burst of awesomeness was supposedly inspired by Hoover's tie up project with Thingiverse that promoted newer add-ons for their vacuum cleaners. Of course, Fouche and his company took things to a whole new level by incorporating the scope of 3D printing into the mix.
To that end, the team started off with a disemboweled Hoover vacuum, so as to precisely capture the shape and arrangement of its inner components. And then, after a period just four hours (due to the advantage of their advanced 'Cheetah' printer, used previously for an entire lawn mower), the designers were successful in contriving a shell, the main tube (with working components), and even the nozzle of the cleaning machine. All of these sections were created from just 2 kg of ABS thermoplastic granules – which comes with a total cost of around $6!
Lastly, as we mentioned before, the 3D printed vacuum cleaner can also be used as a dedicated flower pot by untethering the paraphernalia of nozzles and tube. This is what Fouche had to say about this dual ambit of functionality –
We have made a lot of vases. They are so easy to make! While working on the design of a normal industrial looking vacuum cleaner, this vase standing around caught my eye, and to my astonishment, the Hoover motor unit actually fit into it.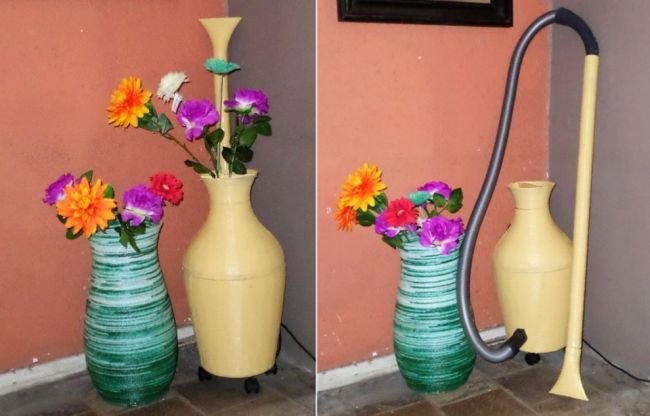 Via: 3DPrint