Sorana Pintilie of University of Art and Design, Cluj, has created contemporary folding furniture equipped with simplicity and practicability. The chair and stool have the capacity to take you back to the childhood times when folding chairs were the all time solution for picnics and small reading sessions. According to Pintilie, she got inspiration of creating flat-pack furniture from Folditure design studio. Currently, the folditure furniture is redefining contemporary furniture design by adding unique art, architecture and engineering to create space saving seating for home.
The handcrafted furniture is made from birch plywood to make it simple, practical, economical and easy to carry. To get the desired look, wood is cut, lacquered and painted. Folding flexibility is achieved by adding hinges to the corners. To get the practical look, Pintilie received great amount of help from Sortilemn – manufacturer of small furniture since 1961.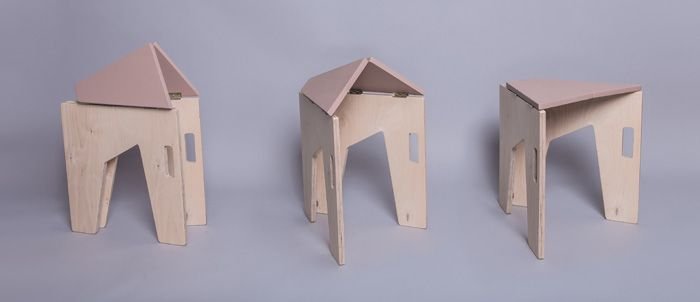 Sorana Pintilie also credits the Cluj University of Art and Design for all the support and motivation for creating the beautifully crafted folding chair. Folding furniture is gaining popularity in urban areas where size of living spaces is constantly shrinking. And, for such shoebox-dwelling, these folding furniture that offer freedom and flexibility with colorful aesthetics are of great essence for solving space crunch.
Via: Designist