A common complaint among individuals with limited mobility is the difficulty of taking a bath. In a study, almost 99% of these individuals prefer to have a shower rather than get into a bathtub for a bath. However, a shower can also prove to be a tiring experience for individuals with limited mobility. In addition to wasting lots of water, a shower can pose the threat of accidents caused by slippery floor mats or water on the floor. It can also place more strain on the body owing to the fact that the individual would need to stand for long periods while showering. A lot of individuals also opt to switch to shower chairs with time although these can also not be considered as the most feasible solution.
Enter Tide, the concept bathtub that owes its striking design to Monica Welcker, an industrial design student from Virginia Tech. Aimed at providing a safe, enjoyable and independent bathing experience for seniors as well as those with limited mobility, the Tide Bathtub comes with side doors that can be opened, thus allowing the individual to enter or leave it effortlessly with minimum physical exertion.
The Tide Bathtub also features an innovative dual chamber system that would allow the individual to fill it with water without necessarily waiting inside it. Once the tub is filled, the individual can simply open the chamber to allow water into the sitting area. This can be a great boon in situations where the individual ends up sitting in the tub and opening the water only to realize that it is too hot or cold. Tide's asymmetrical walls also allow for an open, independent bathing experience that would offer more support and stability for the user. A chair on one of the tub can be lowered and raised, thus making it easier for the individual to sit inside the tub when taking a bath and then get up afterwards.
Using the Tide bathtub is very simple. The user would first need to enter the tub (the first chamber) and then fill the second chamber with water. When the water has reached the right temperature, he/she can open the inner door to let the water fill both chambers. He/she can then sit on the chair and lower himself/herself into the water. Afterwards, he/she can raise the same chair to stand up and walk out of the bath.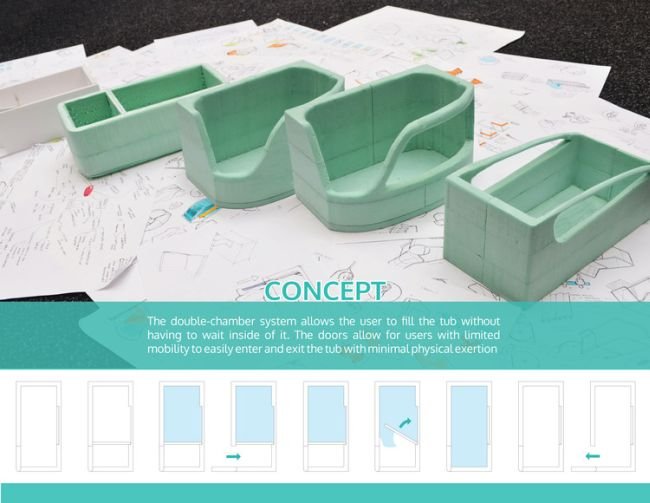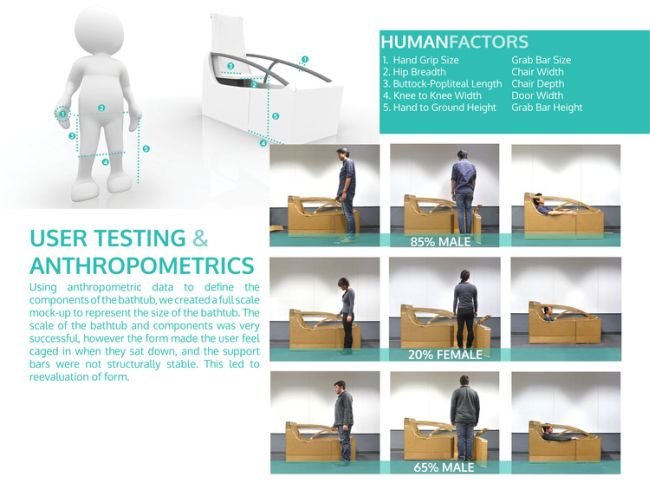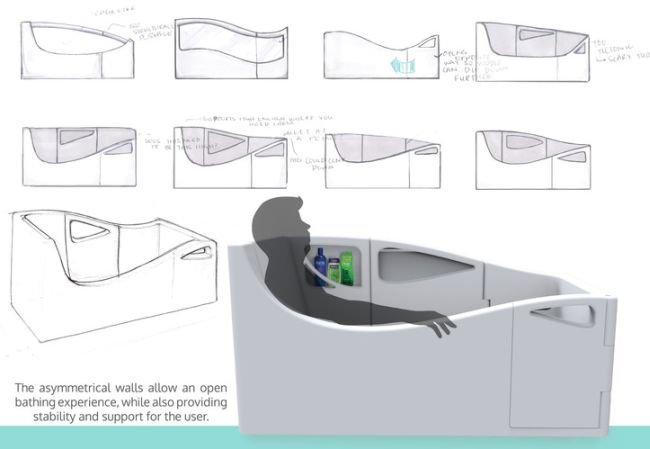 Source: Monicawelcker