Modern kitchens are moving away from the sole choice of granite for countertops, as there are several other plausible materials like soapstone, lava stone, concrete, quartz, glass, etc available to experiment with these days. These stylish alternatives give a kitchen that additional edge and elegance in terms of look and feel without necessarily hindering the functionality in any way. So if you are on the lookout for a stylish countertop material for your kitchen, consider the myriad options given below.
1. Quartz:
This classic alternative to granite looks stylish and feels sturdy. The hard material is durable and thus, becomes the best choice for accident-prone kitchens. The glossy sheen offered by quartz also lends a sleek look to the kitchen countertop, while the material itself is very easy to clean. Another highlight of using quartz is that it does not require sealing/resealing at regular intervals and comes in myriad color choices. The only downside to this material though, is its heaviness and heat tolerance, which is lower than other kitchen countertop materials.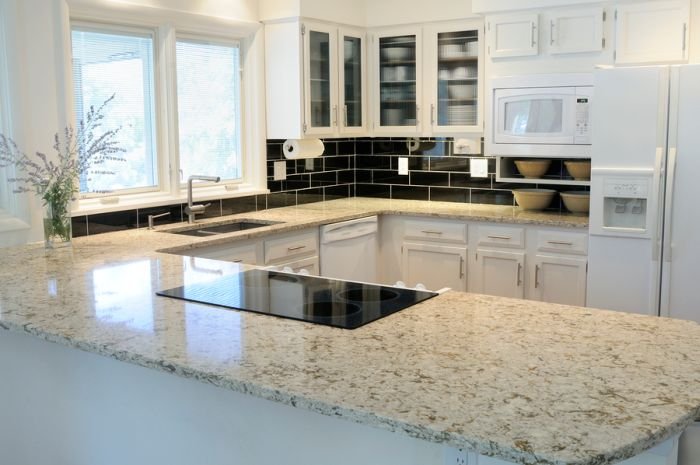 2. Glass:
Glass has been making a foray into the kitchen for past few years and has steadily become one of the most popular choices for kitchen countertops now. The timeless look lent by a glass is priceless, while the never-ending list of colors and patterns allow you to choose the most aesthetic look for your kitchen. Glass countertops also do not stain easily and are extremely heat resistant as well as hygienic, owing to their nonporous nature. The only problem with glass is that it can chip and display ugly fingerprints.
3. Reclaimed Wood:
If you are looking for a greener option, consider using reclaimed wood salvaged from other homes for your kitchen countertop. This smart and equally attractive option is comparatively sturdier than normal wood, because the reclaimed wood usually comes from older, stronger trees. In addition, it offers a life like rustic vibe to the kitchen that even modern counterparts cannot match.
4. Concrete:
If you want an extremely durable and stain resistant kitchen countertop, then opt for concrete, a material that has been making headways into the market. Available in several eye-catching colors and designs, concrete countertops are customizable to any shape and texture. Moreover, they are extremely heat and scratch resistant. The only downside of these countertops is that they can easily attract stains from acids and are very heavy.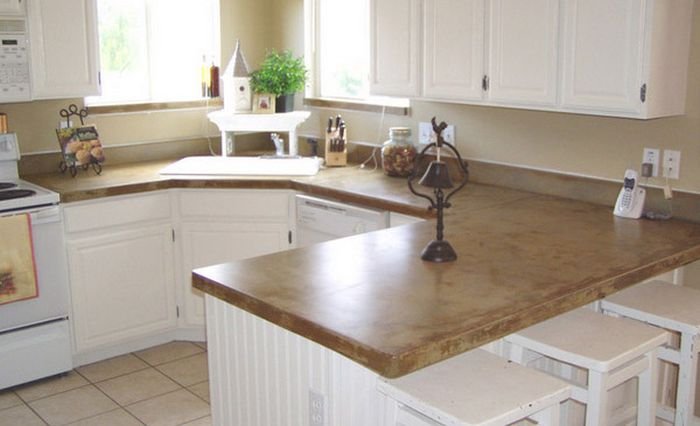 5. Slate:
This fine-grained rock tends to be softer than granite, but definitely harder than marble, which makes it a great material for your kitchen countertop. The uneven surface of slate offers the countertop an aesthetic appeal as well as makes scratches and nicks invisible. Slate countertops are also very easy to clean and prevent bacteria build up on the surface. However, they are not heat resistant and can stain easily under hot pots/pans as well as vessels containing liquids. In addition, they do not offer a glossy look but a rather, dull matte finish which would not be your preferred choice, if you want something shinier.
6. Soapstone:
Like granite, naturally occurring soapstone can be a sturdy choice for your kitchen countertop. The dark color of soapstone becomes darker with time and use. It also offers a smooth, matte finish that is easy on the eyes. Even though the material itself is not resistant to scratches and dents, you can easily sand/oil away the scratches.
7. Lava Stone:
This not-well-known material has been slowly gaining prominence in the market. The biggest highlight of lava stone is that it is available in both glossy and matte finishes, allowing you to choose the best option for your kitchen. Lava stone is also available in myriad eye-catching colors, and is non-porous like glass and resistant to heat, stains and scratches. The only downside of using lava stone for your kitchen countertop is the cost factor, with the new entrant priced significantly higher if compared to other options available.
8. Cork:
Of late, a number of households have started using cork for their kitchen countertops. The lightweight material is not just dense and sturdy, but also highly resistant to heat and water. In addition, it prevents bacteria build-up on the countertop surface. Some other salient features of this versatile kitchen countertop material are its sustainability and sound cutting properties.
9. Stainless Steel:
This countertop material lends an elegant, classy look to your kitchen. Modernistic kitchens can benefit greatly from steel countertops that are resistant to heat, water and germs. Stainless steel is also very easy to wash and requires very little maintenance, apart from the occasional polish. Though it may start to show some scratches and dings after some time, a coat of polish would eliminate them for sure.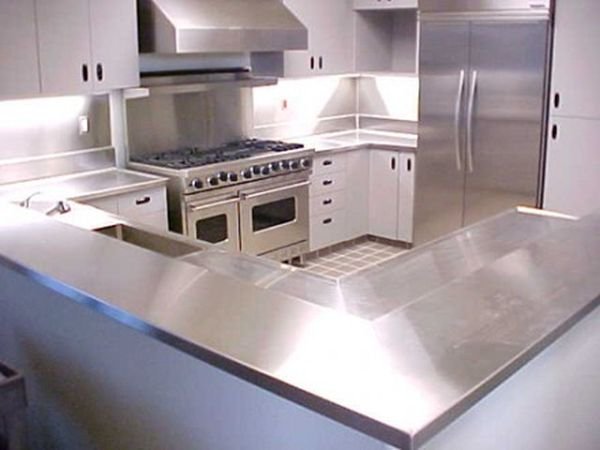 Summary:
Kitchen countertops have come a long way from the time they were restricted only to one material, granite. The modernistic kitchen countertops come in a variety of materials that lend a sleek, elegant look to the entire kitchen.