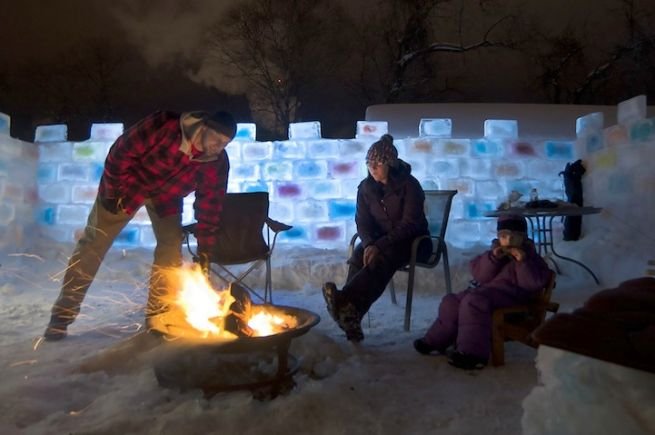 With the North American Arctic blast making and breaking the news, we all over the world had an idea of the severity of the polar vortex phenomenon. However, more than a month ago, Canada's Northwestern Ontario reached chilling temperatures of less than -13 degree Fahrenheit (around -26 degrees Celsius) for about an extended period of four weeks. In such calamitous circumstances, resident Chris Marchand showcased his ingenuity and indomitable spirit by constructing a vivacious, 5 ft tall ice-fort in his backyard.
Our brave DIYer took advantage of the frigid conditions to fuel his heroic endeavor. He utilized an assortment of materials like – plastic containers, a toboggan, water/ice and snow. But the most interesting ingredient would obviously be the use of slushy mixtures that lent their colorful vibe to the project.
In terms of the bold process, Marchand created about thirty ice bricks per day with the help of 8-liter plastic boxes. The ultimate tally resulted in a whopping 400 ice blocks, all specifically envisaged for the backyard fort.
These ice bricks were individually released from their containers (which certainly requires a lot of precision and strength), and stacked atop one another to form a wall-like structure. The icy construction was further 'reinforced' with the differently hued slushy mixtures. These concoctions easily froze in the sub-zero temperature conditions, thus making the stacking job a bit easier.
The final magnificent result was a 5 ft tall fort that occupied around a credible 25 sq ft area. And, beyond its vibrant allure, the thick walled structure played its part in shielding Marchand's family from high winds and noise.
Via: Imgur