Origami (which literally translates to folding paper) is an exquisite form of Japanese paper art that started more than 330 years ago. Interestingly, the art form in its modern iteration has gone beyond the confines of Japanese culture to make its presence felt in contemporary designs across the world.
And more crucially, the techniques of origami are not just limited to their sculptural uses; they also play their part in complex structural and even engineering considerations.
So, without further ado, let us check out ten such compelling examples of origami-inspired home based designs that take their cue from aesthetic as well as formational attributes.
1) Recyclable LZF Alhambra Lamp –
Painstakingly contrived from a very thin layer of transparent polypropylene, the Alhambra Lamp baffles us with its brilliant craftsmanship. Made by design studio Ray Power, the remarkable lamp form harks back to the unique architectural techniques of the sophisticated Arabic Moors. And as art pervades cultural boundaries, the 'spiked' credentials also poetically allude to Far-East influence of folding paper.
2) Viva Transforming Speaker –
We fleetingly mentioned how origami is used for complex structural designs. The conceptual Viva speaker from designer Jang se-chan gives a nod to this evolved attribute with its mind-bending form transformation. The shape of the docking speaker in its regular bearing consists of a simple cube that connects to iPhone and Android smartphones. But when the need of spatial efficiency arrives, it can be twisted into 'compressed' embodiment that fits even in our pockets!
3) Evolution Door –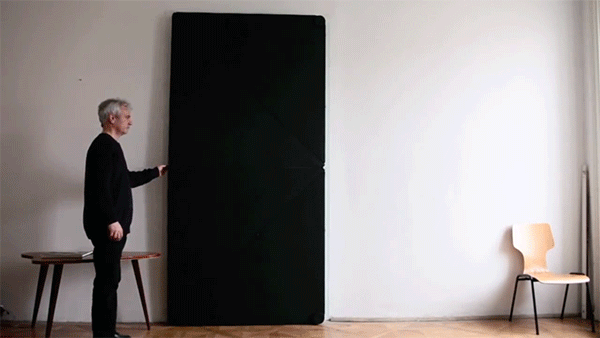 Showcasing the incredible 'dynamic' side of origami, the Evolution Door is ingeniously conceived by Australian artist Klemens Troggler. On receiving a slight push, the remarkable 4-panel doorway moves along a central axis, with its two squares rotating seamlessly with their angles (see above image). And quite interestingly, in spite of their paper-like collapsible nature, the door panels are actually crafted from sturdy steel.
4) Paper Chair –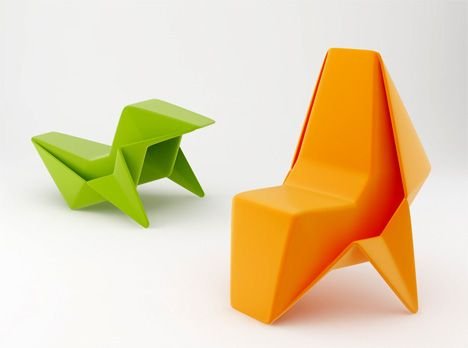 Vibrant and peppy, the Paper Chair collection by Simon Joyau has been designed specifically for kids. The sense of wonderment gives way to practicality with the usage of recyclable plastic as the primary material. And, we are specially enticed by the abstract rocking 'horsey' that would be a groovy addition to your backyard garden during those lazy Sunday mornings.
5) Swan Table –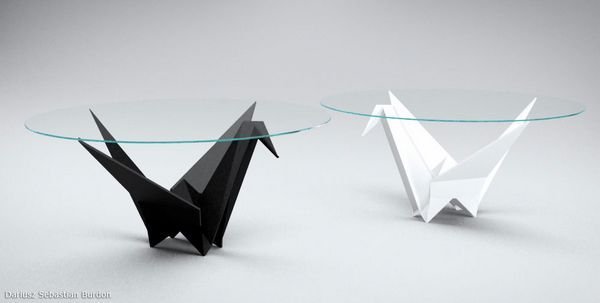 Minimalist, classy and clean – this in a nutshell defines the Swan Table collection designed by Sebastian Burdon. In many ways, the table 'support swans' hark back to the purist form of origami crane, which is also known as the 'orizuru'. Furthermore, the swans are available in elegant black or white color scheme, thus upholding their status as a classic reinterpretation of origami.
6) Kada Stool –
Designed by the famous Yves Behar (the founder of fuseproject), the vivacious Kada Stool impresses us with its geometrical twists. But beyond its origami aesthetics, the stool also serves as a multi-purpose furniture piece. This is evident from its detachable seat that morphs into a serving tray when kept upside down, thus promptly transforming the stool into a small usable table.
7) The Origami Sofa –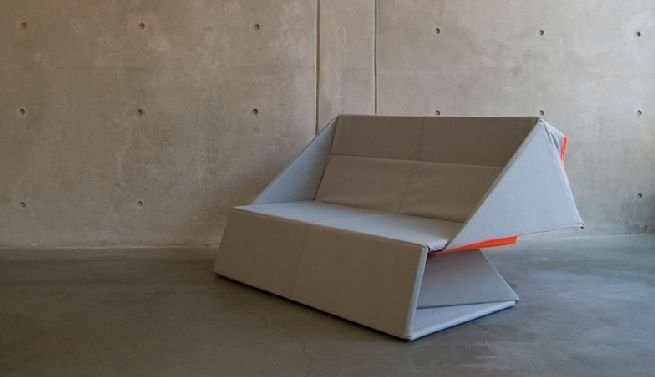 Most of our earlier entries dealt with the visual element of origami. However, California-based furniture designer Yumi Yoshida has taken the practical essence or paper folding as her inspiration. The end result is the utterly innovative Origami Sofa that can be entirely assembled (including the upholstery) from its ground-kissing mat form. This not only alludes to the crafting nature of origami, but also hints at the advantage of spatial efficiency within cramped apartments.
8) Bloom Blanket –
Yes, even blankets are influenced by the art of origami! Boasting of projecting tetrahedrons of soft fabric, the uniqueness of the Kickstarter-funded Bloom Blanket (created by Bianca Cheng Costanzo) comes from its 'three-dimensional' bearing. These special arrangements were modeled by using open source programming languages like Processing. However, in contrast with the computer application, all Bloom Blankets are hand sewn from high quality wool cashmere.
9) Joseph Joseph Folding Colander –
A spatially cramped dwelling generally equates to a compact kitchen. So, when you do not have the luxury of an expansive cooking area, you must turn to space saving accessories. The molded polypropylene-made Folding Colander from Joseph Joseph can be surely counted among these nifty kitchen gizmos, with its transformable nature that morphs it into a flat object. And, the best part is – you can buy one with a price of around $20.
10) Polywrap Wastepaper Bin –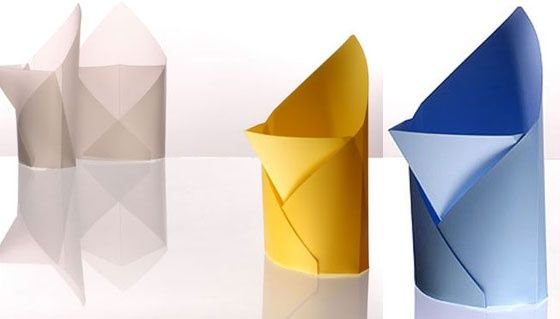 Designed (by Blue Marmalade) from a single sheet of polypropylene plastic, the Polywrap Wastepaper Bin epitomizes the practical quality of origami as a craft. The contrivance comes as a flat pack, with the strategic folds intuitively marked to help you make the bin. The well thought out benefit is that it can once again be unfolded, wiped clean and then re-used – a perfect solution for both homes and offices.