Knitting needles with wool have been used at home to create a number of things since the invention of this craft. Today, we get you knitted furniture pieces custom designed, to personify your customized touch. They are all set to make your home look warm, homely and so much you.
Crocheting and knitting can be combined to create clothing for common home furniture. So introduce the knitted touch to your home and watch it become cozy and creative. Read on more to see how knitted furniture items look spectacular at home.
1.The knitted sofa in cream
We love this comfy sofa, with a knitted cover in cream. The lovely design in cables and the snug fit, makes it look so inviting. Grab your favourite book and curl up on it. The sofa is sure to brighten up any corner of your house.
2. The cutest little stools with woollen tops
These cute little stools look so adorable with their knitted stool tops. They look rustic and are a simple way to decorate your home. The yarn with its softness can make the most insignificant stools look charming. Use them to place your knick knacks or small arrangements of flowers.
3. Patterned bean bag chairs
You can give a make over to your bean bags by giving them this stylish knitted cover. Available from Casalis, place them anywhere in the room and they look ravishing. The woven effect makes them look more cozy, chic and the weave almost offers a three dimensional effect. You can get a pair in the same colour or contrasting shades too.
4. A knitted rocking chair is the best way to relax
One look at this knitted chair and it will tempt you stretch your legs and unwind with a hot cup of tea. Complete with its set of cushions, the knitted rocking chair is a value addition to your home.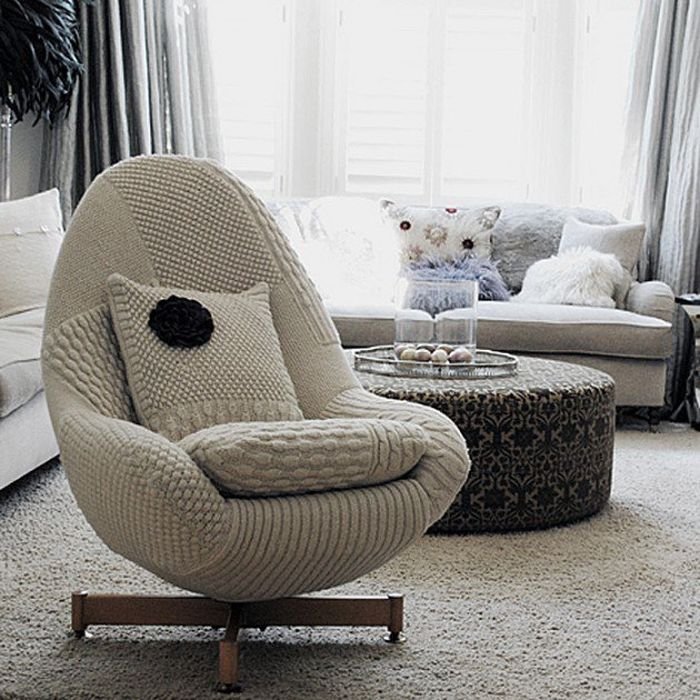 5. The delightful pink chair with a high back
Does your nana and mama keep cooking all day? Make them feel special and loved by getting them this knitted chair to relax. With an intricate design in the loveliest of pink, the chair is sure to make any woman feel warm.
6. The perfect easy chair for the patio
Get a pair of these knitted chairs and watch the sun go down or moon come up, while relaxing on the patio. The knitted cover on a steel frame, makes the chair looks sturdy and inviting at the same time.
7. The old fashioned chair in a white knitted cover
The old school chair looks all set to impress with this hand knitted white cover. Cover all your chairs in white knit and add a whole new dimension to the room. Place a warm shawl in a contrasting color – to add your personal touch to it.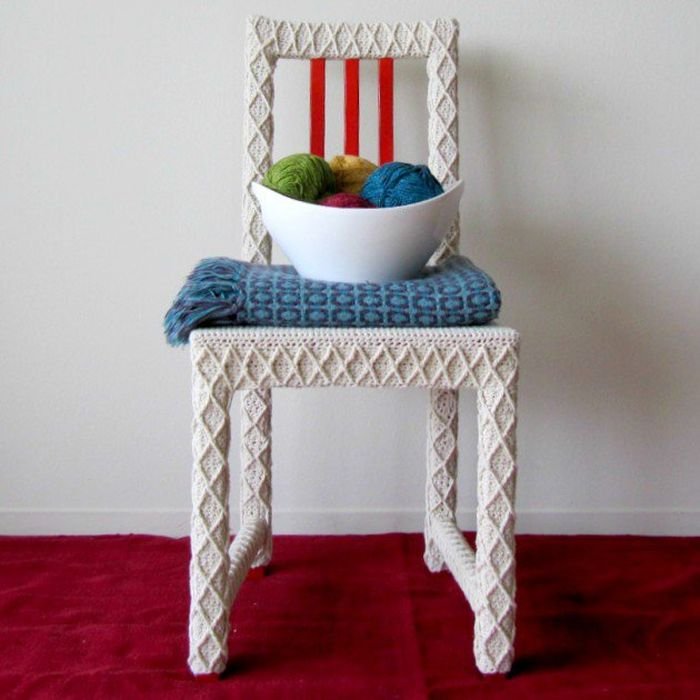 8. The bean chair cum lounger
This is the perfect piece of furniture for those who like to spend quality time with themselves. Use it to surf the internet, listen to music, or just stare in space. The soft knitted cover, gives the simple bean bag a personality of its own.
9. The Biknit chaise lounge, is a class apart
If you are looking to spruce up your furniture this winter, then check out this lounge chair by Patricia Urquiola. The first thing you will surely notice how comfortable this chair looks with its huge cords and woven design. The woven cords are firmly fixed on a steel frame with a coated finish. The base of the chair is made of ash wood, and it looks sturdy and simple at the same time.
10. The chair in white with knitted rosettes
Designers all over the world are bending towards knitted designs as a mode of creative expression. This chair with knitted flowers by Eulália de Souza Anselmo, is sure to lift the mood of any room it is kept in. The knitted flowers and the metal legs, is a perfect combination of creative with sturdy.
11. The chair that cuddles you with love
Have we all not wished for a chair that envelopes us warmly in its arms. This winter pamper yourself with this wonderful knitted chair by Ana Brzostek. The finish resembles your favorite sweater, and is both adjustable and removable. Pick it in your favourite colour and cherish it for life.