First it was used doors, and now we have come to the realm of used suitcases. Interestingly, as it turns out – our personal attachés have a way of making themselves useful even after they have been remorselessly stretched to their load carrying capacity.
So, without further delay, let us check out 6 ingenious ways by which we can make use of our ole suitcases and briefcases – thus endowing them a purposeful second life!
1) Nifty Suitcase Table with Storage Features-
Some resourceful folks at the 'Saved By Love Creations' have successfully contrived an entire Suitcase Table with the aid of a marking pen, 2-inch construction screws, a salvaged 'dilapidated' table and of course an old suitcase.
According to the DIYer involved, the entire process takes only 20 minutes to accomplish. And, the best part is – your creation will look completely unique – as your table model will most probably be different from the above pictured one. Check out the simple instructions from here.
2) Re-purposed Vintage Suitcase Side Table –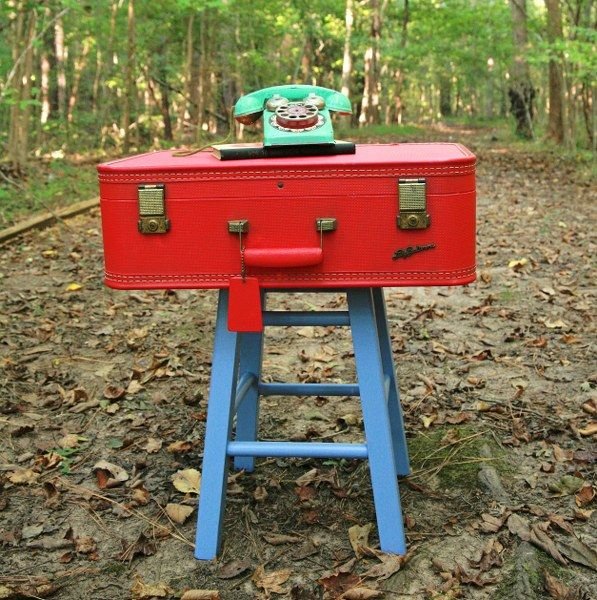 If being more 'avant garde' is your preference, the Vintage Suitcase Side Table might just sate your bohemian cravings. As the name pretty much describes it – you would of course need a vintage case to carry off the vibrantly quirky look of the furniture.
For this DIY creation, Ashlee Park (from My So Called Crafty Life) had utilized a red Lady Baltimore suitcase, along with tools and materials like a hand saw, ruler, primer and paint, wooden screws and a drill. And, the other major component that completes the home-made side table is a wooden bar stool – that rather accentuates the 'beatnik' nature of the furniture through its simplicity. Take a gander at the detailed procedure for the project from here.
3) Suitcase Chair With Comfy Credentials –
Yes, it is possible to make one! All the tools you require include – a compact circular saw, a drill (preferably cordless), screwdriver, hammer, nails and screws As for the materials list, you will have to gather foam pieces, acrylic paint, four salvaged chair legs and of course an ole suitcase.
Do have a look at the comprehensive tutorial, for both the main construction and the minute finishes (like the embellishment with upholstery buttons).
4) DIY Pet Bed With Wooden Ball Supports –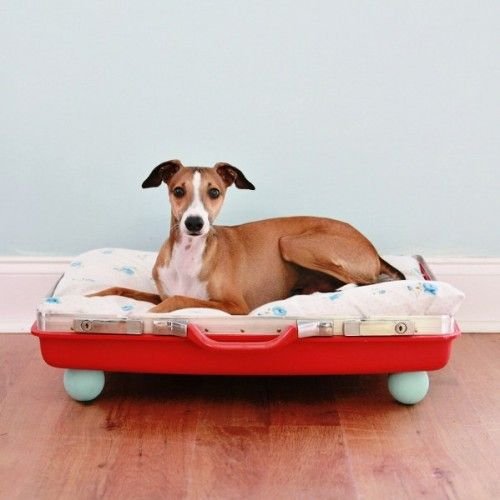 It is high time to show some suitcase love to your pets. Ashlee Park has exhibited her resourcefulness yet again – this time opting for a cheap $5 vintage samsonite suitcase that forms the base for her Pet Bed.
Other materials required for the seemingly mirthful project included a soft pillow and pillow case and those sprightly looking wooden ball supports. You can go through the simple instructions from here, and voila – create your very own pet bed with some groovy detailing!
5) Cat Baggage –
Considering your pet cat's propensity to jump into your suitcase while you are packing, why not give it a chance to practice the 'intrusion exercise' in its leisure time? This DIY project is arguably the simplest of all the entries because you will only require a bottom-half of an old suitcase which was preferably salvaged from a junk store.
For separating the top part of the object, you might need elbow grease and a flat-head screwdriver. A snug bed pillow does the rest by primly fitting into the hollow rectangle of the halved baggage case.
6)  Upcycled Suitcase Dollhouse –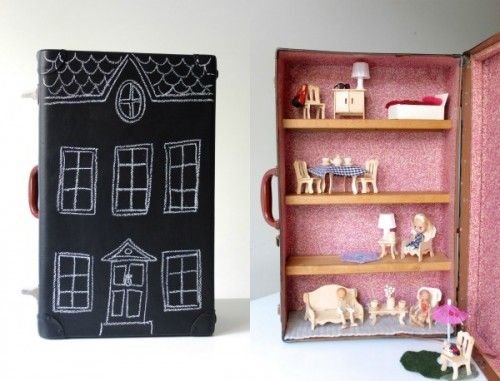 We have covered furnishings for our dogs and cats; so why not built something for our kids? 'Crafty-type' DIYer Cintia (from My Poppet) has ingeniously found a way to refurbish dust collecting suitcases by transforming them into whimsical yet adorable doll houses.
The innovative endeavor according to the creator, is pretty easy to achieve, and all we require are – 2 to 3 wood panels (cut) for the shelves, screws and driver, blackboard paint, decorative paper and of course a hardened cover suitcase. Check out the cool project by following this link, and don't forget to finally bedeck your creation with those cute doll furniture items.