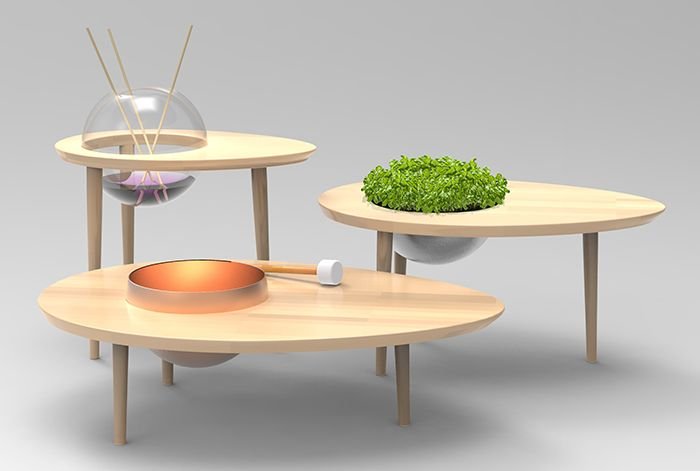 Ab Ovo means from the very beginning, and the theme of the product we are discussing here is something that is there since the very start. Ab Ovo is a set of sphere shaped tables designed by Armano Linto from Croatia. He has not just created tables but has combined spheres with six senses, i.e. taste, touch, sound, intuition/life, smell, and sight.
Armano Linta is famous for his architecture and design and keep coming up with some unique and marvelous stuff aimed at changing people's life. Human beings have used their senses since their inception to live, feel, and experience the world.
The egg shaped table is made from oak-slat and come in three sizes, i.e. 83 x 56 x 65 (WDH), 107 x 72 x 50 (WDH), 130 x 88 x 35 (WDH). The sphere tables serve as bases for six senses. Every table varies according to the sense it portrays, as all six stand for six senses – taste, intuition/life, smell, touch, sound, and sight.
One of the sphere tables has a metal semi sphere as a prominent part of its design. This design has a close connection to one of the senses, which is the sense of taste. Another table has a deeper metal bowl and a hammer, which appears as a drum and a drumstick, and this design signifies the sound sense.
The one you can see with a transparent glass bowl with sticks in perfumed water coming out from it spreads fragrance in the air, which so clearly signifies the sense of smell. Then comes the sphere table with woven woolen lining that contains a storage bowl inside signifying sense of touch. The intuition or life sense is depicted with a sphere table with a glass fishbowl on it. Yet another sphere table that depicts sense of sight is the one that has a lamp sphere on it.