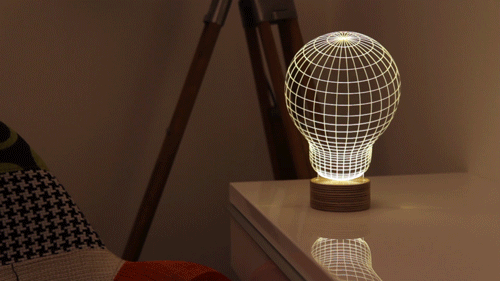 How about bringing some of those science fiction-inspired 3D 'holographic' glory within the comfortable confines of your living room? Well, the 'Bulbing' series of incredible LED lamps (by Studio Cheha) allows you to do exactly that!
The embodiment of each lamp design mimics a three-dimensional object – like a hot air balloon or a skull. But in reality, each contrivance comprises of a 2D plane that is constructed from acrylic glass sheet. This solid sheet is etched with changeable wire-frame patterns to replicate the effect of depths and curves, thus transforming the lamp into fascinating 3D art.
However, there is more to the Bulbing LED lamps than just the gimmick of optical illusion. According to the designers, acrylic glass was chosen because of its better light transmitting capacity than glass or plastic. Moreover, because of the LED attribute, the lamp boasts of a lifespan of whopping 50,000 hours, while its outer surface accounts for a snug warm glow (in contrast to the high degree of heat generated by incandescent bulbs).
These user-oriented features are bolstered by the construction of the lamp series. In allusion to the evolved craftsmanship, the acrylic glass sheets were laser machined for the perfectly derived shapes, while the sturdy wooden bases were CNC machined and then finished with varnish. The paraphernalia of circuitry is also kept hidden and efficient, thus resulting a light design with progressive visual as well as electrical standards.
The Bulbing LED lamps have successfully achieved their Kickstarter goal (with 37 days still to go), with availability expected to be around September of this year for a price of £34 (around $57) for each chosen lamp design.
Via: MyModernMet