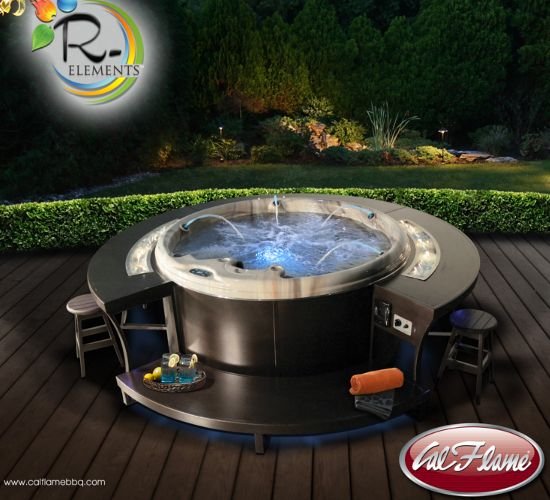 Backyard entertainment – the very term conjures up reveries of music, barbecue and spas. Well, luxury hot tub manufacturer Cal Spas is certainly experienced in catering to those 'good times', as is evident from their launching of the R-Elements package. An expansive model that collectively integrates four spas, fire pits, seating components and even a music system, this alludes to the ultimate scope of outdoor partying during both day and night.
Starting off with the fire pit feature, the R-Elements package comprises of a four piece fire pit which is lined with the elegant silver color scheme of galvanized steel. These pits include three 30,000 BTU capacity curve burners fused with glass chips. The scope is further improved on the visual side of affairs with multi-color LED lights for a party ambiance and a glass tile surface for enhanced aesthetics. The accommodation credentials are also notched up by six adjacent bar stools for your guests.
Of course, the 'piece de resistance' of the whole range of R-Elements is Cal Spa's specialized four-seat, 'plug and play' spa draped in Sunset Storm acrylic. Integrated with lighting as well as music playing features, it has been envisaged as the true centerpiece of your backyard party. In this regard, the spa has LED Hydrosteamer Waterfalls for variant color effects and an iSound stereo system (for iPods) with two speakers. Other spa specific attributes include heaters, water jet mechanisms and UV sanitizing systems with advanced technology.
So, at the end of the day, R-Elements is all about the wondrous play of light, water and sound. In fact, it is this collective nature of the package that notches up on the wholesome experience of partying throughout night and day.
Via: CalSpas