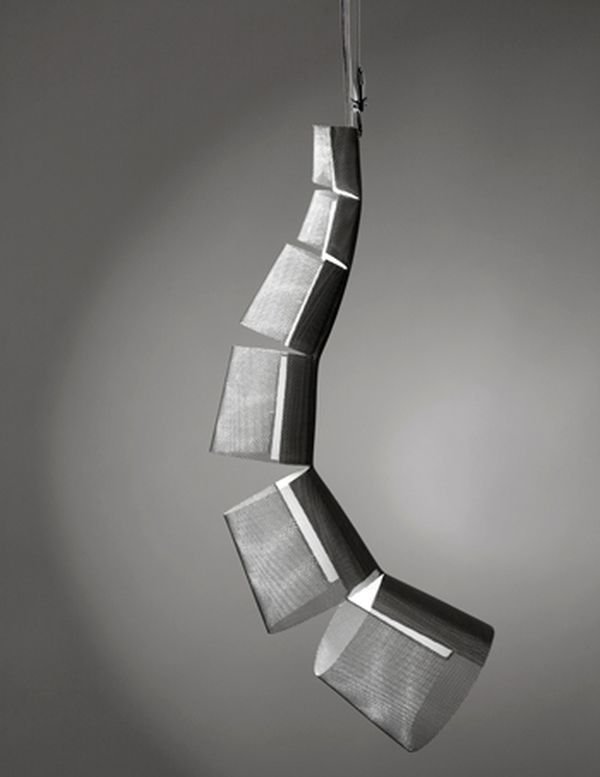 Those who still have fresh memories of their futile childhood endeavors to catch that elusive lizard hanging by the wall and precipices, would certainly connect with the above pictured lighting mechanism. Aptly christened as the 'Drop Tail' lamp, this remarkable conception by T-Bac design replicates that dropped tail of the smart lizard, who by shedding its appendage (a self defense process also known as autotomy) craftily escaped from your curious paws.
The Drop Tail conception obviously corresponds to a much larger scale, so as to form a proper lighting mechanism. And, this is where the ingeniousness of the designers come into the limelight. The outer facades of the lamp are constructed from separate 'compartments' of stainless steel meshes. These compartments mimic the real life organic divisions found on the exterior of a lizard's tail.
However, the lighting is not only about replicating and symbolizing a lizard's tail; it also has to do to the overall visual effect the lamp is creating. In this regard, the Drop Tail concocts a contrasting illumination based on the duality of light and shadows. The light is emanated from the 'breaks' in the series of compartments that make the metallic tail. On the other hand, the ambiance of shadows are created by the diffusion of light from inside the stainless meshes.
Furthermore, the lighting utilized by the conception are LEDs, which by virtue of their imbued technology consume much less power (than conventional systems) and are also highly efficient in their application as interior lights.
Via: TBacDesign