In an attempt to emulate the nature in indoor atmosphere, Milan based design firm DesignLibero has come up with an innovative and truly breathtaking micro architectural piece called Il Nido.
Translating to "Nest" in Italian, the Il Nido is a modernistic representation of a natural bird's nest. The piece intends to offer the perfect respite for anyone in need of a serious de-stressing session, and that too right at home in the midst of blasting TVs, screaming kids and partying neighbors.
Although designed to emulate a quintessential bird's nest, Il Nido is not made of leaves and twigs like the former. However, the designers have strived to keep it as close to nature as possible by building it out of myriad recyclable materials, including textiles, terra cotta and wood.
The basic design features a square shaped enclosure that comes with several impressive features. A set of integrated LED spotlights offer soft lighting options at strategic locations throughout the piece. A self-watering hydroponic system also helps you plant flowers and plants on the piece, thus enhancing its natural appeal, apart from its green color.
Another impressive feature of Il Nido is its capability to multitask, offering several configurations and functions in a single large piece of architecture. You can reconfigure parts of the piece into anything you want. Choices range from a bed, chaise and sofa to even a recreational area for your kids. Thus, there is no need to fighting for space in Il Nido wherein each member of the family can do what he/she wants with minimum hassles or inconvenience to others around.
True to its name, Il Nido is definitely a de-stressing haven for families in today's stress filled world. It is also the perfect excuse for families to get together and enjoy some quality time without necessarily having to inhibit individual likes and preferences.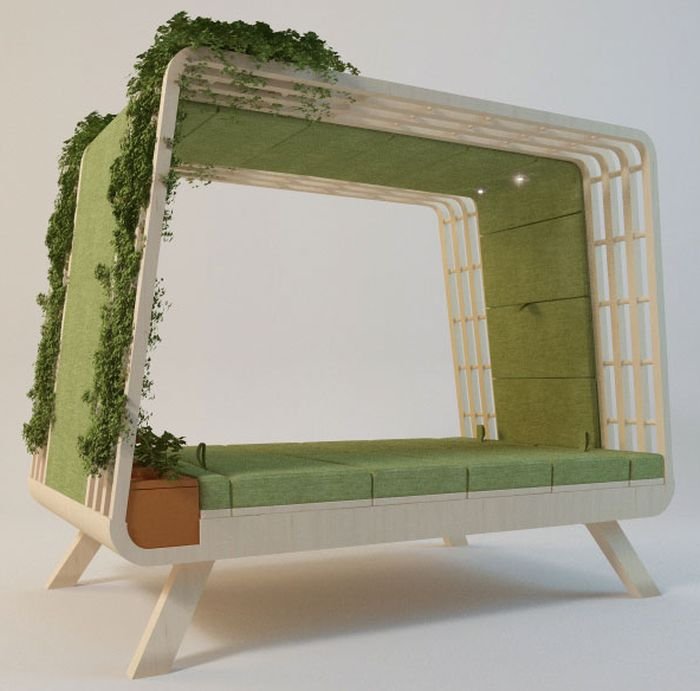 Via: Dudeiwantthat