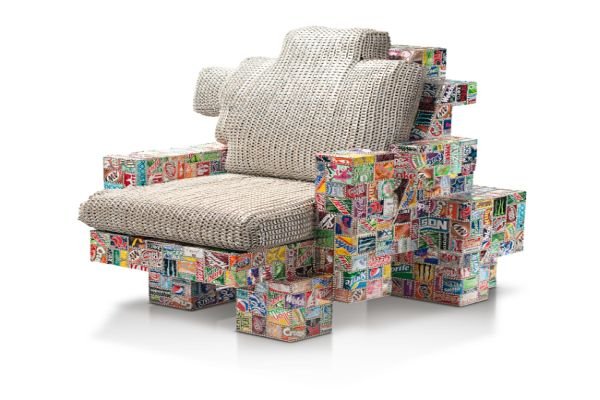 Your furniture choice depicts your lifestyle, just like your car does. Which car does the person owns, Ferrari or Rolls Royce. Similarly, the quality of your furniture can tell you about person's taste and style of living. Well, here we will introduce you to something more exciting; though furnitures do excites passionates but this is something special.
Because, Benjamin Rollins Caldwell, BRC in short, is a person who have come up with unique furniture designs. Just think of owning something which is one of the few piece in the world and equally unique.
BRC designs his products in limited editions. And Suicide Chair is one of his unique findings. The body of the chair is made up of Aluminum Soda cans which are attached with nickel upholstery nails and the cushions are made up of hemp string.
Well, there is nothing related to Suicide in it and the chair is only designed for your comforts. It may have, I am sorry it surely has a weird name but it has been derived from the suicide drink. BRC has a complete que of suicide products which calls Suicide Collection including soda cans table.
The Chair is really FAN-TASTIC and a great piece of art. A way far from wood or plastic material it's been crafted from recycled soda cans. This unique design is completely uncommon and leaves different impression on your friends, relatives and neighbors.
Art can't be felt without seen, so have look images and decide how promising my words are. There is no other information available regarding product like Price etc.