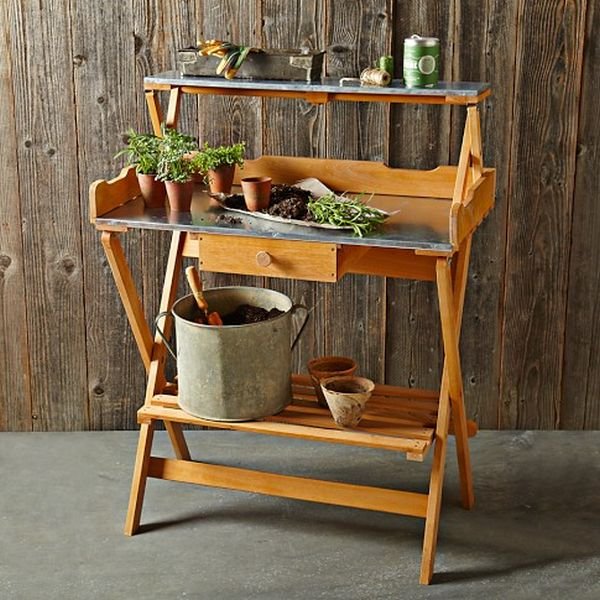 Those who proudly go by their 'green thumb' nature would know a thing or two about the convenience of a personalized workbench for gardening. In this regard, we have come across a fully folding potting table, which is showcased and made commercially available as a part of the thriving British small scale industry.
Furnished from FSC-certified sustainable solid beech timber, the folding potting table is roughly divided into three separate functional components: two shelves, an upper and a lower, along with a middle drawer. This drawer serves as the main work space, where you can fill pots, and keep the assortment of herbs to be planted along with the removed weed. In fact, the designers have fixed sturdy galvanized sheet metal facades to this drawer and the upper shelf to support the numerous pots needed for working. This metallic draping also protects the wooden bench from harmful external effects like scratches and dampness.
However, the primary advantage of the potting table is obviously its fully folding nature. This attribute would help the user to safely keep the contraption out of harm's way, once his/her gardening chores are done. The required storage area is also kept minimal, thus alluding to the spatially efficient modular scope of things.
Dimensions: 37 1/3″ x 19 3/4″ x 48″
Weight: 59 lb (around 27 kg)
Price: $474 (approximately)
Via: Williams-Sonoma