Coffee machines are certainly our best friends during our gruff morning sessions. And, while those Steampunk versions are all good for exhibitions and stuff, it is the conventionally designed ones that bring forth the real deal. So, without further ado, let us check out ten such top-rated coffee machines (from various avenues like Amazon and Top Ten Reviews) that makes its possible to receive that crucially pleasurable shot of caffeine to cure our groggy 'morning sickness'.
1) Cuisinart Brew Central DCC-2650 –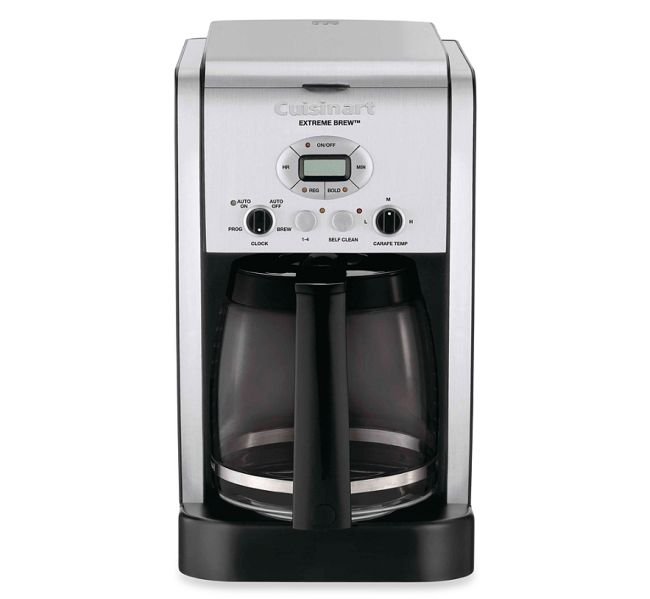 Having the nifty (and rather impressive) capacity to brew 12 cups of coffee at a go, the Cuisinart Brew Central DCC-2650 is the ideal contraption for your extended family breakfast. On top of that, the machine is touted to deliver coffee around 25 percent faster (than regular devices). The coffee-making credential is further boosted with user-oriented features like digital display, adjustable temperature control, a brew-pause mode (that allows you to serve a cup before the brewing is done) and an alerting mechanism that lets you known whe the brew-cycle is finished.
Buy – $100.
2) Keurig K45 Single Cup Home Brewing System –
A manageable device with a sturdy ABS plastic housing, the Keurig K45 is nigh perfect little coffee machine for both your home and office. The main feature of the contraption would arguably pertain to its automatic on/off mechanism that can save substantial power. As for other little yet equally useful aspects, the carbon-filtered Keurig K45 has the capacity for three different brewing sizes and a removable drip tray that allows us to 'insert' our bigger cups or travel mugs without having to position them at those weird angles.
Buy – $105.
3) Nespresso Pixie Automatic Coffee Machine –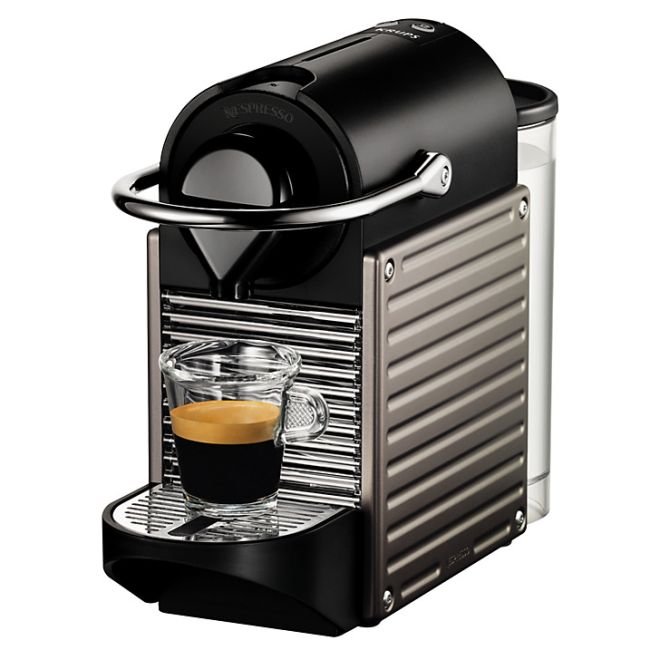 A compact design complemented by quick coffee making (in under 25 seconds), the Nespresso Pixie takes advantage of its fast-heating thermoblock technology. The ease of usage is maintained by a flourish of features, including 2 variant cup sizes, an automatic stop function for power saving that can reduce up to 30 percent of Pixie's carbon footprint and sixteen Nespresso capsules with info that allows you to join the Nespresso club. In other words – a simple yet social espresso making experience!
Buy – £126 ($208).
4) Mr. Coffee 12-Cup Programmable Coffeemaker –
Another pause n' serve contraption, the Mr. Coffee Programmable Coffeemaker has already made its mark in the realm of caffeine with its 'honor badge' of being of the best products from 2011 (as per a leading magazine survey). In terms of design, the device is a bit imposing with its top loading, lid-off aspect. However, the advantages more than make up for the spatial feature, with the coffee maker boasting of – consistent flavor for your favorite beverage, the allowance for substituting the default glass carafe with a thermal one, a power saving mode and a removable filter basket.
Buy – $35.
5) BUNN BXBD Velocity Brew –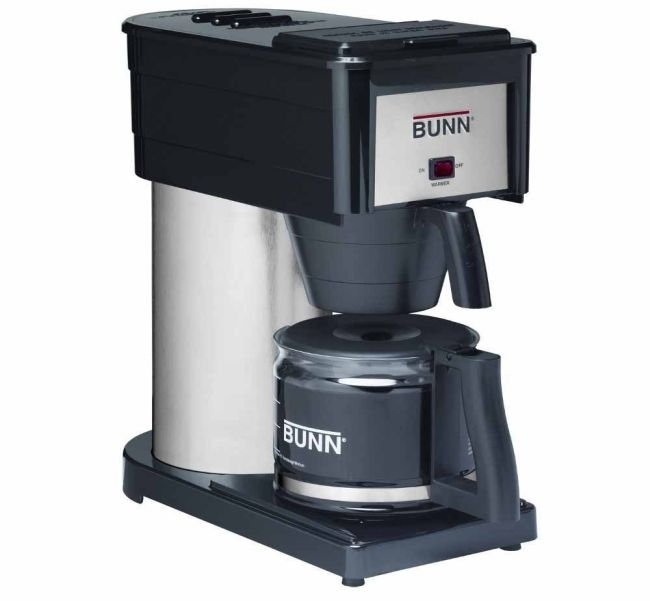 Specifically tailored to meet your coffee demands atop tall mountains and scenic hilltops, the high altitude-friendly BUNN BXBD Velocity Brew comprises of a uniquely designed thermostat for above 4,000 ft readings. Furthermore, the coffee maker comes with its insulated stainless steel body that maintains the internal temperature, while a special spray-head helps in stronger and 'purer' coffee extraction. The combination of these effects is claimed to make the device twice as faster than conventional coffee machines!
Buy – $112.
6) De'Longhi Scultura Coffee Machine –
Retro looks, glistening facades, simple controls and pleasantly creamy coffee – this in a nutshell describes the De'Longhi Scultura. In fact, it is the 'clockwork' essence of the product that makes it both efficient and delightful. And moreover, the elegant contraption is perfect for making other milk-related drinks too with its built-in steam control and an extended tap for those delectably floating froths.
Buy – £200 ($330).
7) Zojirushi Fresh Brew –
Combining the Japanese sense of refined aesthetics that we have to come appreciate over the years, the Zojirushi Fresh Brew completely eschews the component of the hot plate. The result is – the coffee is brewed directly into the thermal pot without the danger of becoming too 'burnt' or overcooked (just like in coffee shops). Other than that the coffee maker flaunts its stainless steel carafe, a water gauge with a red ball to visually catch your attention and an electronic clock module that can start brewing in accordance to your preferred time of the day.
Buy – $90.
8) Cuisinart Automatic Brew and Serve –
The name says it all – this device from Cuisinart is envisaged to meet the demands of automated coffee brewing with its host of programmable features. Once again, the machine ditches the hot plate by brewing directly into the snug, insulated and dishwasher-safe carafe. As for the other features, the 12-cupper utilizes paper filter (thus adding sweetness and mitigating cholesterol from coffee) and a programmable clock that can be regulated 24-hours before brewing.
Buy – $100.
9) Hamilton Beach 2-Way Single Serve Brewer and Coffee Maker –
The ultimate low-maintenance coffee maker with an affordable price tag, the Single Serve Brewer is a cool contraption with the ability to serve your coffee in dual methods of brewing. The single serve mode allows you to add the grinds into the mesh filter; and if you have guests around, you can also opt for the so-called "carafe side" that lets the machine brew at full capacity of 12-cup pot. Furthermore, the device comprises of a special pod holder that brews the myriad brands of soft-pod coffee, but with the taste of freshly ground coffee.
Buy – $59.
10) Chemex Classic Series Glass Coffee Maker –
With its iconic hourglass-shape, polished wooden collar and leather tie, the Chemex Glass Coffee Maker was given the honor of being among the 100 best products ever designed in our modern times  by Illinois Institute of Technology! And, the 'piece de resistance' of the scope is the specially made Chemex filter that is created from high quality paper material. Of course, such 'purist' attributes are accompanied by advantages such as cleanability, non-requirement of electricity and the flavorful taste of the hot beverage.
Buy – $43.