If statistical figures made any impressions on you, here is one startling one – according to EPA, around a whopping 9.8 million tons of furniture waste are annually discarded into landfills from US. The solution to this mass scale predicament pertinently remains in realm of recycling, and that is exactly what The Cardboard Guys bring to the table in a quite literal sense. We are talking about their Kid's Imagination Furniture line incredibly crafted from 40 to 60 percent post-consumer recycled fiber.
Fusing fun and functionality, the eco-friendly furniture line comprises of a chair and a table. Both of the usable components are created from the similar strains of recycled fiber, thus having an uniformity in aesthetics. As for the scope of practicality, the table/desk boasts of reversible outer sections, while also flaunting its small storage spaces or 'cubbies', and additional side-slots for other homemade contrivances.
Now given its DIY credentials, the Kid's Imagination Furniture is packaged in a flat-packed manner, and can be easily assembled by joining the different modules without those obtrusive adhesives. In fact, the designers have made it quite clear that their creations are envisaged as furniture for kids, by kids. In essence, the designs can be arranged by the children themselves, thus fostering creativity in the long run. Justin Farr, CEO & Co-Founder of The Cardboard Guys, said –
We learned that parents want to provide their kids with an environment to color outside the lines; a place for creative freedom. The Imagination Desk and Chair is theirs to do just that.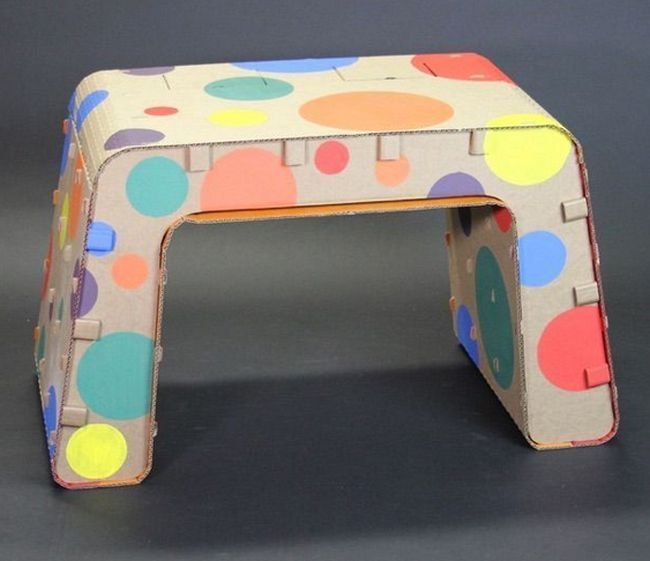 Lastly, in case you are worried about the 'flimsy' cardboard aspects of the Kid's Imagination Furniture – the chair is tailored to hold over a substantial 500 lbs of weight. And, the best part in commercial terms is – the furniture collection is all set to make its debut in Kickstarter by 24th February (which is tomorrow, as of writing).
UPDATE: The Kid's Imagination Furniture has STARTED its Kickstarter campaign, with early bird pledges starting from $75.