In the contemporary realm of furniture, modular designs are taking the center-stage of attention. However, the predicament with many such contrivances is that they are not really user-friendly, especially when it comes to the assembling scope (that requires tools and components). Fortunately, New York designer Paul Loebach's incredible PEG chair eschews the ambit of tools and glue, with its array of simple modules and slots.
The tool-free furniture system of PEG (Parts Excluding Glue) is the fruit of the collaborative effort from Paul Loebach and Brooklyn-based design studio Makers Anonymous. The simplistic modules of this chair comprises of eight birch wood pieces that were CNC machined thus resulting in their evolved form factor.
As for the facile assembling process of the flat packed PEG, the birch wood modules simply pushed and then aptly fitted into the pre-arranged slots. These 'peg and hole' joints account for a sturdy, durable structure, while at the same time making it easy for the user to detach the components whenever necessary.
According to Loebach, this fascinating ambit of flat packing pertains to 'intelligence in furniture design'. The factors of portability and unobtrusiveness showcases their advantages in numerous scenarios, like – when the furniture is transported, or when the chair is used in outdoor conditions, or even when the system is changing its ownership.
However, more than just the scope of usability, there is a symbolic side to the peg-and-hole connections, with their intrinsic charm that alludes to child-like simplicity. Loebach has gone on to say – how the 'purity' of the PEG chair/furniture system solves a commonly-encountered assembly predicament through essentially primitive means.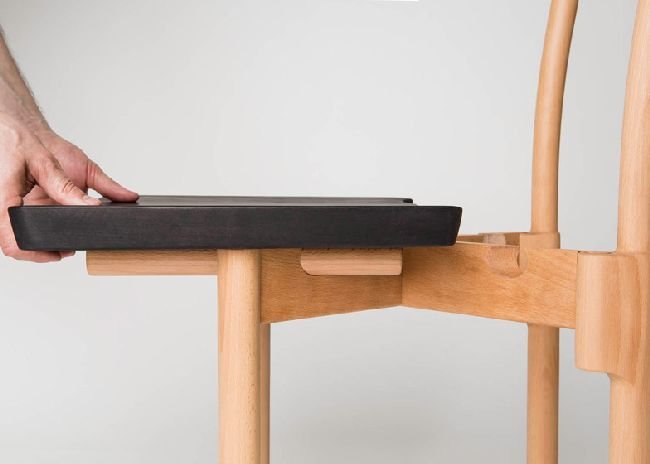 Via: Dezeen