The notions of conventionality suggest – lamps are used as active components for lighting. Well, Russian designers Anna Strupinskaya and Alexey Ivashkevich have put a wondrous twist to this scope of orthodoxy with their aptly named Lampslamp.
Comprising of a translucent bowl of violet colored silicone, the internal framework of the lamp fixture is composed from an array of burned-out halogen bulbs. So in essence, these bulbs endow structural rigidity to the 'soft' silicone material, thus serving as passive components of the Lampslamp.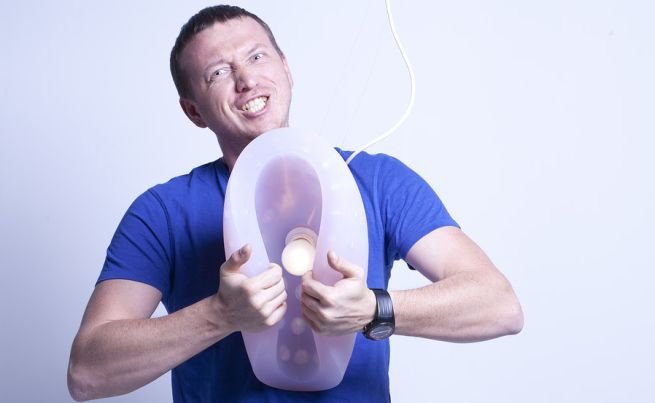 Of course, the Lampslamp also showcases its lighting credentials with a centrally located energy efficient bulb. The luminous glow from this 'actively participating' bulb is reproduced by the transparency of the surrounding (albeit latent) halogen bulbs. This in turn creates an utterly ethereal effect, which is further accentuated by the three-dimensional form factor of the silicone bowl.
All of these features are in line with the core design aim of the Lampslamp. The designers wanted to showcase the complex side to seemingly simple objects, when viewed from a special angle.
This unique ambit of symbolism is bolstered by some high-end materials used for the lamp conception. As a result, the Lampslamp is surely a costly design piece with a price tag of €900 (around $1,230).
Overall dimension – 360 mm diameter
Via: DesignSpotter