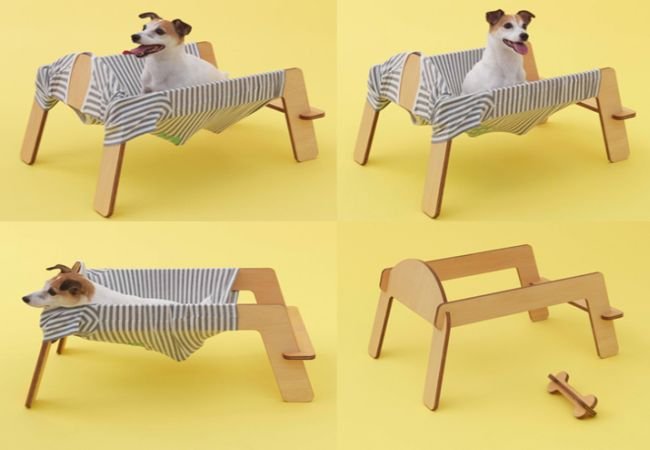 It is no secret that dogs are fond of their masters. The Jack Russell Terriers are even more so, with the dog breed being most happy and comfortable in a surrounding 'fueled' by its master's essence. And that is exactly what the Wanmock Kit (designed by Japan-based Torafu Architects) brings to the table, with its hammock-like construction that can be used for stretching your old clothes. The dog in turn can snugly rest upon this taut fabric, blissfully surrounded by its master's scent.
The very name Wanmock is a play on words – with 'wan' pertaining to 'woof' in Japanese. The kit as a whole, was designed as an entry for the Architecture For Dogs, a collective project involving various designers and architects, aimed at providing effective pet furniture solutions for dog owners. As for the more specific features, the Wanmock is tailored to smaller dog breeds (14-18 lbs), with its wooden framework upholding the elasticity of the said fabric – be it a old shirt or a sweater.
So, if sufficiently enticed, you can take a gander at the Spoon & Tamago online retail store, with each Wanmock Kit coming with a price tag of $235. And, if you are further interested in the variant dog furniture designs from the Architecture For Dogs endeavor, an exhibition is currently being showcased (till 5th May) at the 21st Century Museum of Contemporary Art, situated in Kanazawa, Japan.