Always wanted to take your home decor to the exclusively 'eccentric level' that your neighbors would talk about in hushed tones? Well, look not further, as we have salvaged some bizarre bookshelf designs from the murky depths of the internet. Some are weird in their conceptions, some are outlandish in their forms, and even a few are practical in their functions. However, the common thematic element shared between them is their 'out of the box' essence. So, without further ado, let us go through some unconventionally designed bookcases that satiate our quirky side.
1) Trippy Bookcase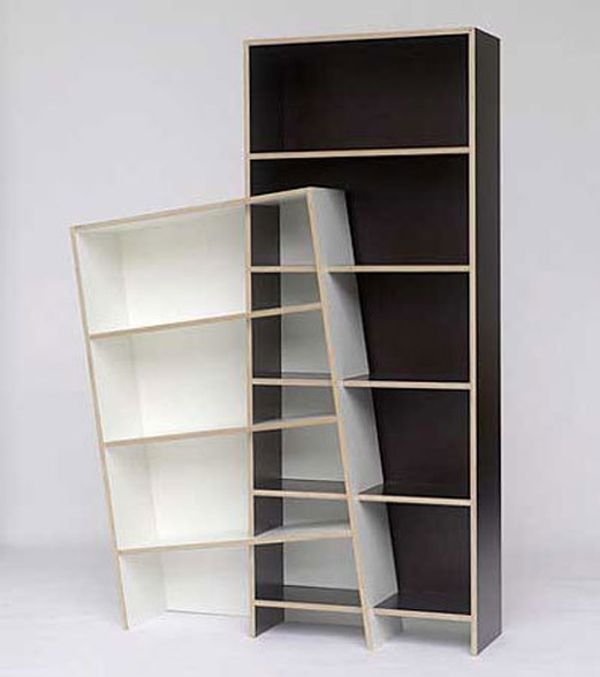 Looking like a ghost bookcase escaping from the 'mortal' form of the original bookshelf, this is the Trippy Bookcase. In technical terms, the juxtaposition of black and white, with a weird sense of form fragmentation have always enticed us furniture geeks.
2) US Map Bookshelf
Created by artist Ron Arad, this surely would please the geography enthusiasts. Each shelf is defined by a US state outline, while the entire 15-ft wide gargantuan shelving system is crafted from corten and mirror-polished stainless steel.
3) Metamorfosis Bookshelf
Welcome to the scary, fairy-tale forest with gnarled leaf-less trees. Except for this 'forest' is totally hand-crafted (by artist Sebastian Errazuriz) and also poses as an organically designed yet stable bookcase design.
4) Crash Bookcase
Deftly capturing that climactic moment just when the shelves are seemingly about to collapse, this ingenious albeit eccentric contrivance was crafted by designer Rainer Mutsch. Made from sturdy plywood, of course there are no doubts about its structural stability (in spite of your concern for its visual irregularity).
5) Kartell Bookworm Bookshelf
Another design contrived by artist Ron Arad (for Kartell), this conception is symbolically as well as visually dedicated to voracious readers. Mimicking the convoluted form of a literal worm, the designer has adroitly managed to endow the shelf with an organic shape. On the other hand, the term 'bookworm' is an affable reference to the user, who will keep his/her books along the shelf.
6) 'Iron Joe' Polar Bear Bookcase
Finally, a modular bookcase with an anthropomorphic form, Christened as the 'Iron Joe', this polar bear replicating bookcase (by iBride) is made from high pressure laminates. And, if you are not too keen with keeping a boisterous bear inside your living room, other similar laminated designs include Nimbus Cloud shelves and Ostrich Leg shelves.
7) Life-Sized King Tut bookshelves
History aficionados, worry not! Measuring at more than 6 ft, the above pictured Sarcophagus of King Tutankhamen replica opens up to reveal 14 storage shelves for your precious manuscripts and parchments. As for its ridiculously remarkable craftsmanship, the whole $895 design has been hand-crafted from solid wood with resin finishes and hand-painted with opulent hues.
8) Bookwave Hanging bookshelf
Frankfurt-based studio Ilio has created something artsy and functional at the same time. Named as the Bookwave, this hanging fabric conception can be utilized as a flexible room divider, while also doubling up as a portable storage space for your books.
9) Wisdom Tree Bookshelf
Well, you can call it a tree with branches, or you can call it an abstract piece of pretentious art. Anyhow, the red composition and the asymmetrical shape of the bookshelf (with a touted capacity of hundred books) is sure to turn some heads in your living room get-together.
10) Invisible Bookend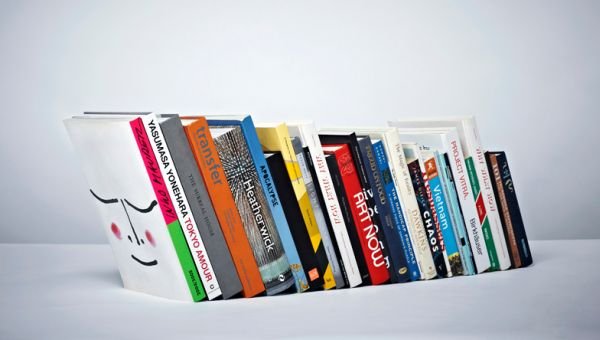 They say – to save the best for the last. However, we have decided to save the 'jest' for the last. The above pictured Invisible Bookend crafted by London based designer Paul Cocksedge is actually a mystery to behold, even beyond its 'invisible' credentials? How so? Well, the designer has not actually divulged on how he created the invisible (presumably freestanding) mechanism that comprise of the bookends. Of course, the mystery can be solved by buying the £50 item (please refer to this link).