Summer is coming, as so is the time for outdoor cooking sessions; be it in the wild-lands when camping or in the backyard during those laid-back family outings. Fortunately, the recent kitchen-oriented technological progressions have brought forth a host of innovative outdoor cooking options.
Many of such contrivances could prove their worth as apt machines for dolling out your scrumptious get-together suppers, while at the same time saving your energy bills.
So, without further ado, let us check out ten such advanced outdoor cooking devices; ranging from the costly, boisterous contraptions to the minimalist, flexible gizmos.
1) Power Pot –
Salt Lake City based start-up Power Practical have taken up a different 'green' route with the Power Pot, a cooking device that is based on the principles of thermo-electricity. In simpler terms, the device makes use of the temperature difference between two entities and converts this magnitude into usable heat.
This makes it perfect for outdoor scenarios, with the difference in heat factor between the water and the campfire being used for generating (zero impact) energy to cook your food. Furthermore, the produced energy can also be utilized to charge up your mobile devices via USB chords.
Buy – $149
2) Fire Magic Electric Grill –
Coming with a host of features, including – precision thermostatic control system (for controlling the internal cooking temperature), a removable warming rack and even a built-in alarm system; the Fire Magic E250t Electric Tabletop Grill is tailored for unusual cooking scenarios when open flame is prohibited.
So, now you can make your feast in semi-outdoor areas, like – apartment balconies; and even on more secluded places like – in a boat. The 252 square inch grill operates on a 110V, 20 amp circuit and has the capacity to achieve beyond 725 degrees F.
Buy – $1,198
3) Pop Up Grill –
While our previous entry dealt with complexity, the more familiar technology of the adjustable Pop Up Grill helps you deal with flexible scenarios. This inherent flexibility is derived from the detachable bottom section and mid-section of the cooking device, thus making it a multi-purpose contraption with charcoal grille as well as rudimentary campfire compatibility. Additionally, the Pop Up Grill flaunts its streamlined structure for better air-flow and tough Teflon coating for higher temperature capacity.
Buy – €35 (around $45).
4) Vertex Stove –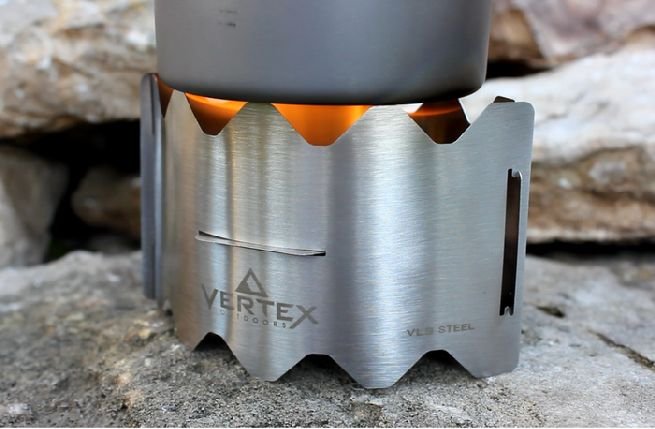 When you have finally made your way into a secluded wild corner of mother nature, the personalized Vertex Stove brings forth its crucial attributes. Designed to be carried in a backpack, the 1.8 ounces (50 grams) contraption demonstrates its uniquely curved form (made of brushed stainless steel) that is suited to compactness without the inclusion of any moving parts. And as for its cooking credentials, the Vertex can conveniently use both alcohol burners and solid fuel tablets, thus giving you much needed options in crunch situations.
Buy – $40
5) SunFocus solar oven –
Boasting of a hybrid system that combines both solar and electric components, the SunFocus solar oven is designed as the go-to cooking device in any weather condition. The scope is improved by features like double-glazed glass, scratch resistant reflector panels and a relatively big cooking chamber.
But the greatest advantage of the contrivance is arguably its low-wattage (465 W) electric heating element that consumes a whopping 75 percent less power than regular kitchen ovens.
Buy – $449
6) GoSun Stove –
While the earlier SunFocus solar oven requires solar generated electricity, the GoSun Stove totally eschews any kind of synthetic power generation. Instead the cooking device depends on direct sunlight that is further magnified by an array of parabolic mirrors to cook your food (via convection).
When translated to figures, the efficient working ambit can achieve optimized temperatures of 200 degrees to 550 degrees F, and can easily prepare your hot dog in under 10 minutes.
Buy – $299
7) Primo Jack Daniels Edition Oval 400 Grill –
For those who want to opt for a bigger (and hardy) cooking device in the outdoors, the Primo Jack Daniels Edition might just be the boisterous machine for you. Boasting of ceramic tech and porcelain-coated cooking grates for uniform heat distribution, the entire contrivance is shielded by a lead-free, scratch resistant glaze.
Moreover, it is made from marine grade materials to mitigate the harshest of weathers, and has precision cooking features with a specially fitted thermometer (that keeps tab from 180 degrees to 500 degrees F).
Buy – $1,400
8) Essentialz Weber Portable Charcoal BBQ –
Crafted from porcelain enameled steel, aluminium and plastic, the Essentialz Weber charcoal BBQ proudly showcases its durable yet svelte form factor. The high quality construction is further complemented by the integration of an outdoor lantern that comprises of a set of four LEDs. This mechanism can be winded when lighting is required for the cooking and for general purposes during the camp nights.
Buy – £118 (around $198).
9) Mon Oncle Portable BBQ –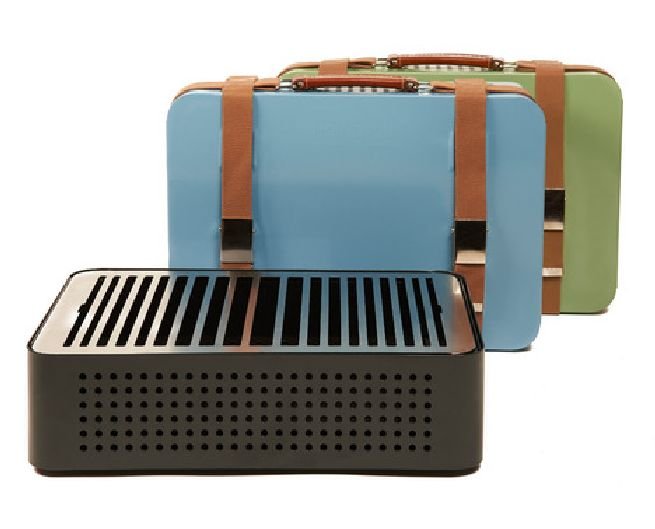 Nothing epitomizes portability more than a suitcase. Well, the designers of Mon Oncle Portable BBQ (Mermelada Estudio) have taken advantage of this general notion to contrive the chic tabletop barbecue. Fun-sized, easy-to-carry and perfectly fashionable, the contraption treads the vintage route of form complementing function.
Buy – €280 (around $388).
10) TGX Tactical BBQ Fork –
From grills, ovens and stoves, we end our list with a cooking fork that generates laser lighting to aid your during those nighttime BBQ sessions! This pointy contrivance has a body made from sturdy zinc-alloy and a stainless-steel fork for handling the meat.
It is neatly juiced up by two AAA 1.5V alkaline batteries, thus upholding its self-powered credentials. And beyond the geeky factor, the groovy laser feature might just come in handy in the dark outdoors, where you do not get the benefit of electrical outlets.
Buy – $20