The thing about lamps is that their 'function' goes beyond just illuminating your home's interiors. In fact, the progression of contemporary design trends have elevated lamps to the status of splendid decor-enhancing contrivances. And among such evolving designs, the ones crafted from natural stuff stand apart by virtue of their stylish organic bearing.
So, without further ado, let us gleefully gawk at six such delightful specimens of lamps made from natural materials.
1) Link S Suspended Lamp –
Sensual curves being complemented by a natural essence; LZF once again impresses us with their collection of magnificent suspended lamps. Handcrafted (by Ray Power) from wood veneer Möbius strips, the graceful vibes of these lampshades matches up with their twirling patterns. And, the good thing is – these magnificent specimens are available in eleven different finishes.
2) TILT scraplight table lamp –
The bragging rights of the TILT table lamp would surely be related to its sourcing from locally available materials. A light design by Seattle-based Graypants Studios, the actual shade part is gloriously made from a twisting form of textured rope. This coiled bearing deftly covers a delicate porcelain lamp holder supported by a sturdy steel frame.
Buy – $495
3) Serpentine Plumb Pendant –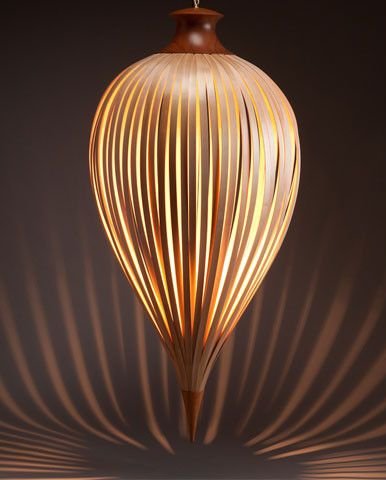 Harking back to the nascent years of flying balloons and zeppelins, the Serpentine Plumb Pendant impresses us with its regally bulbous embodiment. The refined shell of the lampshade is arranged from yellow hued cedar slats, while the top cap is crafted from sapele wood. The 'buoyancy' of the contrivance is finally exuded by the effervescent LED (inside) that peeks through the intricately arrayed slats.
Buy – $3,900
4) Brecce lamp collection –
Proudly naturalistic – this in a nutshell defines the amazing range of eco friendly Brecce lamps contrived by designer Marco Stefanelli. Made from an assortment of various items like sawmill scraps, tree branches (salvaged from a wood processing plant) and cement; the 'piece de resistance' is surely the integration of modern LEDs within these natural components. The wonderful assemblies result in one-of-a-kind lamps based on their variant organic contours.
5) Kindling Lamp –
Sylvan, minimalist and inspired by both Native American and Japanese cultures; the Kindling Lamp by Josh Shiau makes no pretense about its purist natural credentials. The rustic support element is painstakingly crafted from raw rift-sawn ash wood, while the lampshade is conceived from pressed hemp fiber paper. The ultimate combination brings forth an ambiance of 'wilderness' that alludes the primal nature of creating fire by kindling.
6) ORIGIN pendant lamp –
The eternal antithesis of synthetic and organic manifests itself through the ORIGIN pendant lamp by Gregg Parsell. Handcrafted from a spiraling mass of thermoformed Corian that provides the 'glacial white' contrast to the natural American Black walnut fixture cap (at the top), the lampshade aptly represents the poetic clash of diverse materials.