Modern day furniture is all about being modular enough to suit the needs of the user as well as adjust to space constraints seamlessly. If you are an avid reader, chances are you may want to install a bookshelf in your room to organize all your books. There is no need to worry if you do not have the space for one though. Check out these flexible shelf designs that adjust beautifully as per the room's (and your) needs.
1. Modular T. Shelf System from J1 Studio
Designed by Jae Won Cho, the modular T. Shelf is a triangular storage that can shift shapes based on its function. Using a triangle as the base geometric shape for the shelf, the designer has created a functional structure that can grow indefinitely with your collection of books. You can either place the T. Shelf on the ground or install it on the wall according to the space available in the room. It would add an artistic touch to your room with its sculptural magnificence.
2. Backpack Modular Shelving System by Fifti – Fifti
Here is a bookshelf you can take with you wherever you go. The backpack modular shelving system is a lightweight bookshelf that comes with adjustable belt straps. The straps can hold six wooden shelves in between them and users can mount the entire unit easily on a wall. If you do not need it in the hallway, take it apart and set it up again in the bedroom, as simple as that.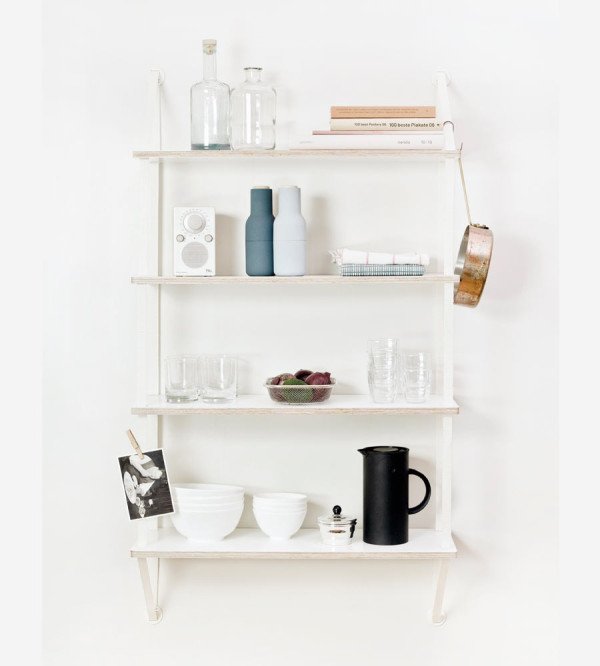 3. Frames 2.0 DIY Shelf
What do you say about a shelf that simply compresses into a small shape when not in use? That is what the Frames 2.0 shelf offers you. This DIY shelf is nothing more than a sleek rectangular plank structure from which you can retrieve all the individual components to build the shelf. Once assembled, this jungle gym is nothing short of an architectural marvel that would leave you spellbound for sure.
4. Tipi Modular Shelving System
Designed by Assaf Israel, Tipi is one of a kind modular shelving system that is the outcome of a yearlong trip around the world undertaken by the designer. After the trip, Assaf decided to make something that would be easy to assemble, disassemble, change, rebuild and transfer. The Tipi modular bookshelf can play myriad roles, including a desk or even a wardrobe, other than just that of a bookshelf. When it comes to design, no other shelf can beat the modularity, in terms of construction and deconstruction within a space, of the compact bookshelf.
5. 360 Degree Shelf
Designed by Luka Pirnat, the 360 Degree bookshelf as the name suggests can spin in a full circle and adjust to any angle that you want. Featuring a simple but at the same time classy design, the bookshelf includes a square shaped shelf with a 45 degree beveled cutout. The 360 Degree shelf not just offers a smart storage solution for your books, but also your movies, toys, musical instruments, iPads, collectibles, and so on.
6. Citybook Modular Bookshelf
Designed in collaboration with Mr. Less & Mr. Moore, the Citybook Modular bookcase by Antonella Di Luca takes inspiration from another product called the Housebook. The designer modified the key design of the product and created a unique modular shelving unit around it. The result is a stunning bookcase that can be literally twisted, turned and configured in different ways to meet your storage needs. This also means that instead of having a rectangle or square bookcase, your will have a classy bookshelf capable of changing its shape every now and then to create visual interest.
7. BUILD Bookcase
Those looking for a greener, more ergonomic design would absolutely love the modular building bookshelf, BUILD. Made of non-toxic and recyclable materials, the bookcase just takes a few minutes for installation or reconfiguration. You do not need any tools or instructions for the same either. The highlight of BUILD is its versatile blocks that you can arrange in different ways to create various shapes and designs. While you can mount the bookshelf on a wall or place it on the ground, on the other, the individual blocks double as partitions, stools or even boxes.
8. As If From Nowhere Bookcase
This amazing bookcase from Orla Reynolds actually hides a fully functional dining table as well as chairs. The standard bookcase design comes with intermittent slots that are used to store up to two dining tables and four chairs. Simply pull out the table and chairs when you intend to use them, and then tuck them back into the allotted space. This would be a cool design for small homes where every inch of free space counts.