A few days ago we talked about the multi-functional nature of a chair cum bed. And, now the ambit of dual purposefulness has seemingly spread to our kitchens. Israeli designer Adam Levi has contrived his version of a cooking cum dining table christened as 'Tish'. Exhibiting a modernistic form, the main appeal of this kitchen conception lies with its spatial arrangement rather than its core form.
In this regard, the table is defined by a separate cutting area which is deftly connected to an eating area by an accessible preparation/serving channel in the middle.
The structural arrangement of the Tish allows for the cutting area to be at an upper level. This area has a magnetic garbage bin directly below it (supported by an additional wooden plank) to conveniently clean the scraps and vegetable wastes.
As we mentioned before, this cutting area is connected to a 'mid-zone' preparation/serving channel. The channel has a slanting surface on both sides (V-like cross-section) which facilitates the positioning of the serving dishes (as seen in the images).
Finally, the arrangement comes down to the eating area at the lowest level. Completely segregated from the cutting and preparation area by some innovative spatial demarcations, this easily accessible zone still forms a collective part of the whole kitchen table.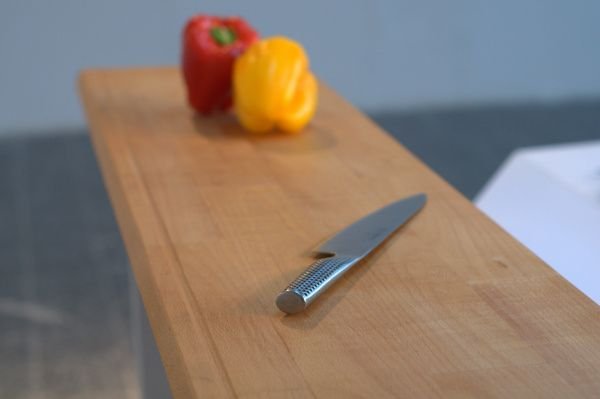 Via: Behance