The designers (from Oge Creative Group) of the aptly named "Bird's Nest" seemed to have a singular objective when crafting the conception – to bring out the fun side of furniture. The mirthful result is the fusion of a snug seat/mattress and a "playground" that comes with its fitting egg-shaped cushions – thus transforming your living room into an intimate, spontaneous and more importantly, a lively space.
As is the 'democratic' tendency of the Bird's Nest design, the furniture comes in a range of sizes, starting from a small one that can accommodate 2-3 people, to a whopping 4.5 m (15 ft) dia one that can easily fit 16 people. And, in such a humongous ambit, the purpose of the system pertains to a collective usage pattern, with users having the option of utilizing the 'nest' in different ways. These include – working on your laptop, reading a book, lying down and privately talking, or just taking a comfortable little nap.
This wide spectrum of informality goes a long way in easing up the spatial as well as psychological tension often encountered inside our habitats. In essence, the 'no-rule' Bird's Nest makes for an intimate soft spot that is tailored to homey social gatherings on the enjoyable, merry level.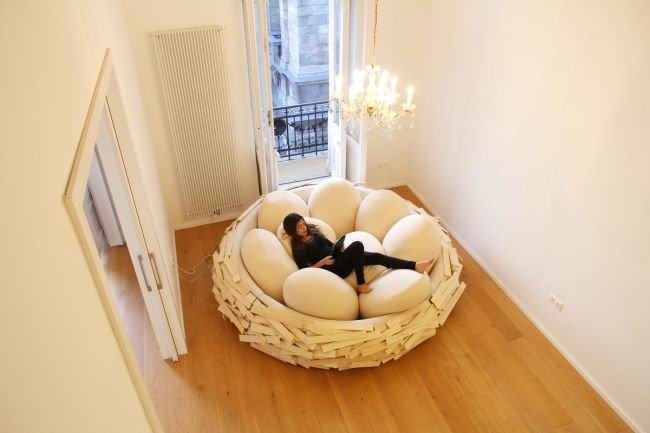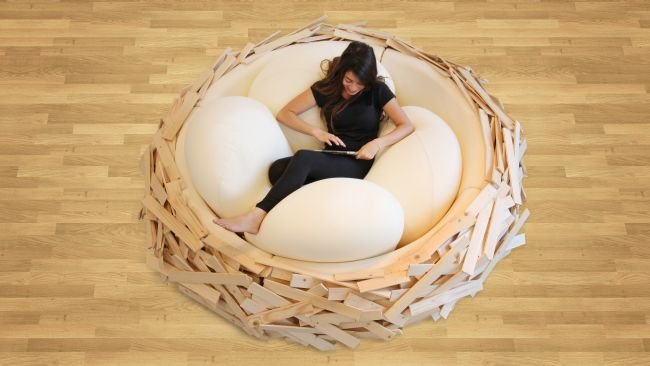 Price: On Request. For more information, please visit the Oge Creative Group online portfolio.