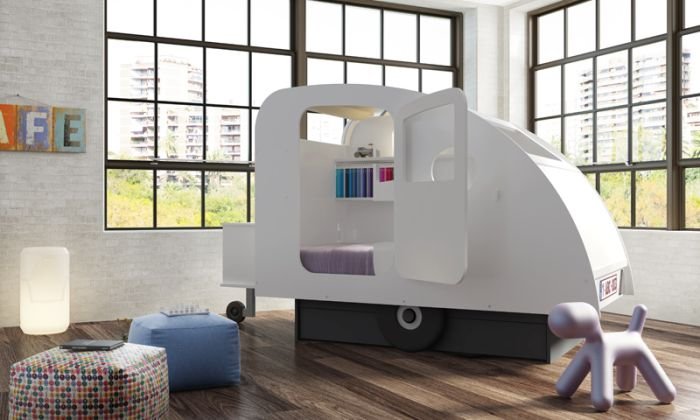 Designed by "Mathy By Bols," Caravan Beds seems to be an ideal addition to your kids' room, as they derive pleasure and happiness through unusual and interesting designs. It looks like a dream bed from a kid's point of view. The philosophy designers follow at "Mathy By Bols" is to create products from sustainable materials and to add three factors to each of their creation, i.e. creativity, flexibility, and versatility that is quite evident in the Caravan Beds.
The Caravan Bed has a unique design, which is ideal for bringing lots of fun and adventure to your kid's room. The designer has given it a shape like that of a trailer with windows, wheels, and a number plate, which you can personalize by writing your kid's name over it. Kids cannot help falling in love with this bed, as this enclosed bed offers an absolute personal space, especially when they have a fight with their siblings and want to spend some time alone.
Coming to the multi functionality of this Caravan Bed, there are hidden spaces, including one drawer in the bed base, two hooks for hanging backpacks or clothes and two shelves, to store all your kids' clutter. For kids can keep their games books, or keep their photographs on the shelves inside this luxurious bed.
The Caravan Bed has dimensions of 246cm (Width) x 112cm (Depth) x 148cm (Height), which means you can easily place it in some corner of a room. The best feature in this bed from the parent's point of view is the roof (made of Ecru Cloth) that which you can roll up and down as per your requirement, especially when you want to peek inside to see what your child is up to inside. You keep your child's color fetish in mind while choosing one out of 20 brilliant color options available in these beds.
VIA [ Contemporist ]