Have you ever visited a geek's home before? Well do not be surprised to walk into one and find nearly everything with a geeky look. Considering the fact that geeks absolutely love anything that even remotely resembles technology, they would definitely flip out over following furniture designs inspired by modern technology. Here are some hi-tech furniture designs that will give a geeky look to your home décor.
1). The Avant-Garde Cupiditas Table:
Designed by Amarist, the Cupiditas table is the perfect amalgamation of contemporary art and artisanship. Made of a unique translucent stone called Alabaster, the core of the Cupiditas Table illuminates with LED RGB technology that you can control from your tablet or smartphone via Wi-Fi.
Thus, you can create the desired atmosphere for the room at any given time by simply changing the color of the light the stone emanates as well as its intensity.
2). Smart Duet Coffee Table by Ideum:
Here is a coffee table that doubles as a giant sized tablet or smartphone. The Ideum Duet features a coffee table with a large diagonal touchscreen as its tabletop. The screen displays two different operating systems, Android 4.4 and Windows 8, meaning you can choose the operating system you are comfortable with for control.
In addition to playing games and viewing multimedia content, you can use the Smart table to control several electronic devices in your home via Wi-Fi or Bluetooth. Not to worry about damaging the screen as it is made of incredibly strong glass, thus letting the coffee table serve its original purpose.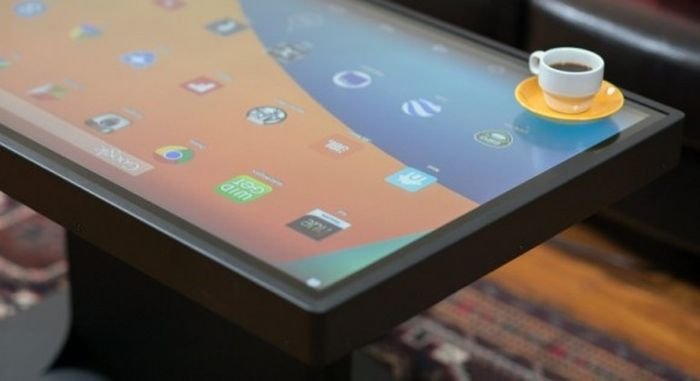 3). Levitating Table:
This incredibly futuristic table would be a great addition to any geek's home. Following the Maglev Train philosophy based on magnetic technology, the table makes use of an electromagnetic suspension system to hang in seamlessly in midair without any support whatsoever.
The base of the table features a steel plate, while electromagnets attached to the base of the tabletop achieve the levitating trick with careful orientation. The great thing about this design is that you can also choose to alter the height of the table by simply altering the strength of the magnetic field between the steel base and the tabletop.
4). Hidden Friends Table:
Although most of us love to personalize our workspace with items like calendars, family pictures and even photographs, we eventually realize that these items take up valuable table space, making it look cluttered. Enter the 'Hidden Friend' table that lets you keep everything you want on your work surface without actually doing so.
The table features so called frills that can be pulled up when needed and then tucked away when not in use. Featured in the main design are a pop-up digital picture frame and a pop-up table lamp that remain hidden until you pull them out. The lamp resembles a light saber, adding more modernity to the overall design.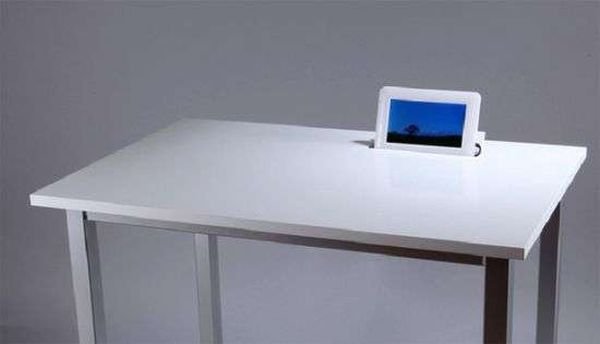 5). Table Connect Multi-touch Design Table:
What actually started as a spoof design, ended up becoming a real thing with Austrian visual designers creating a multi-touch design table that mimics the earlier spoof 58-inch iOS screen table. The TableConnect is an ultra-modern table with a 60-inch multi-touch display that can connect directly to a smartphone or tablet via Wi-Fi and Bluetooth.
The table also comes with an innovative leg support that allows you to use the screen in both sitting and upright positions. Its sleek design, stylish features and amazing functionality would surely find place in several homes and corporate offices in the near future.
6). MTCT 47 inch HD Black Multi-touch Coffee Table:
Here is yet another multi-touch coffee table designed with the sole purpose of making your meetings more interactive and casual. Available in 42 inch and 47 inch variants, the HD LCD tables come with some amazing features that would make jaws drop for sure.
7). PlayStation Controller Coffee Table:
Designed by Australian student Mark, the PlayStation Controller Coffee Table features a high tech design made of nothing but plywood and MDF. The table features a giant sized PlayStation controller as its base treated with veneer and polyurethane white gloss.
The buttons and control sticks have been treated with black gloss as well for a more aesthetic look. Therefore, if you are a PlayStation buff, this coffee table needs to be in your home.