The last time we came across a bamboo conception that deftly replicated bamboo's natural essence was in the case of the classy 'Bambosa' seat. This time around the scope is more novel in nature, given that the design pertains to a gorgeous LED lamp.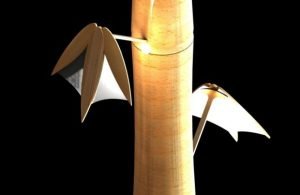 Created by South African Johan de Beer, it would be a tad bit wrong of us to say that his lamp conception mimics a bamboo, as the lamp stem itself IS a bamboo.
According to the designer, the core idea behind the lamp design was to contrive a sustainable lighting solution within limited budget. In this regard, he decided to use the whole natural structure of the bamboo without any conspicuous modification. This stem acts the main support component of the lamp, while also posing as the vernacular visual element of the design. The support furthermore improves the modularity of the ambit, which allows the mechanism to be used as table as well as a free-standing floor lamp.
The lighting fixture itself comprises of very small LEDs placed along the base of the projecting 'leaves'. These leaf-like structures are integrated with glazed surfaces that reflect the light onto the bamboo stem. So, at the end of the day, this creates a wondrous play of light and shade, which is essential to the rustic ambiance of your living room.
Via: Coroflot