While we have previously come across a wealth of 3D printed lamp designs, the ambit of a whole furniture has remained elusive in the realm of additive manufacturing. Well, that has ceremoniously changed with the utterly stylish Karo coffee table, crafted by Poland-based 3D printer manufacturer Zortrax (using their M200 Desktop 3D Printer).
The 'piece de resistance' of the table design is the deft arrangement of the triangular and diamond-shaped components that collectively form the support base. These modules together were printed (in 262 hours and 32 minutes) from about 3.2 kg (7 lbs) of thermoplastic filament; while the glass top that rests on them accounts for a weight of 7 kg (15 lbs). In spite of this overall substantial weight of 22 lbs, the Karo exhibits its visual 'lightness' with the tapering ends of the modules delicately supporting the transparent top.
Furthermore, we are also enticed by the subtly contrasting color scheme of these components that combine both black and white. Unfortunately, the design firm has still not divulged their CAD files that could have made the Karo coffee table an open-source affair. But then again, we can surely count out individual DIY projects, since very few of us can afford to invest a whopping 11 days for creating a single coffee table.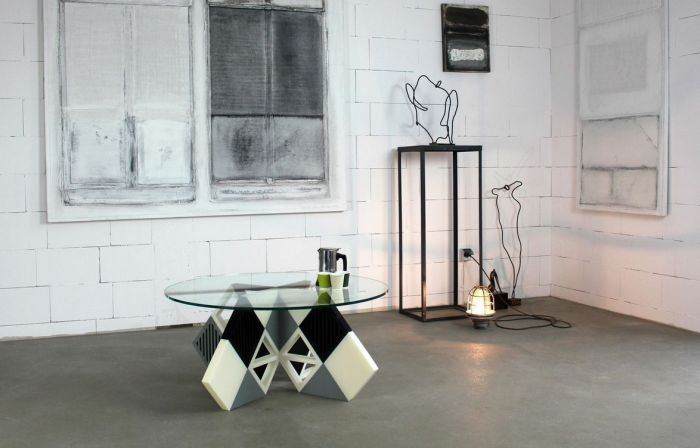 Via: Softpedia