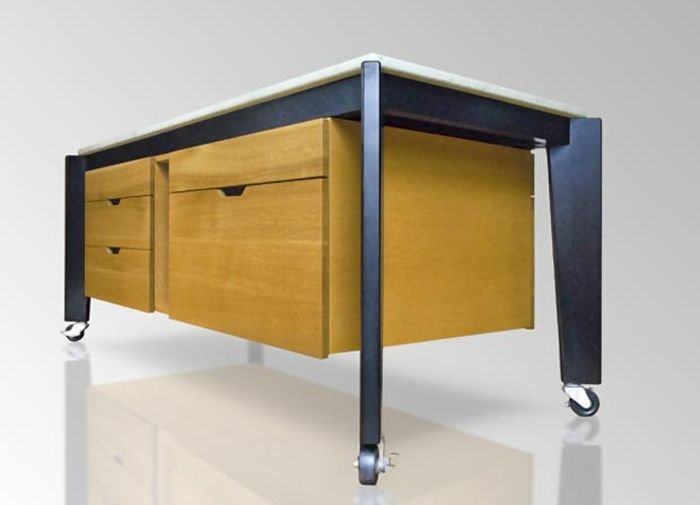 Styling and remodeling kitchen is one of the most difficult tasks, and kitchen is believed to be the most left out place whenever it comes to decorations. However, if you are looking for some riveting yet simple designs for decorating the kitchen, then Kitchen Table, a free standing table by BUTZ+KLUG, will surely make you weak at the knees.
The innovative table is all about practicability and versatility. The designer renowned for adding uniqueness in every project is clearly visible in this project too. According to Butz and Klug, the beauty of every product lies in the details and the fabric of the building and it is only clear details that amplify the beauty of the furniture.
The Kitchen table is inspired by the 20th century architecture design by French Architect Jean Prouvé. The table comes with a marble countertop and can adapt itself with the changing kitchen layout, from single cook, two cooks, several guest, the table can accommodate itself accordingly , proving to be an multi-functional kitchen table . The kitchen table comes with additional storage space to give your kitchen a clean and neat look. The roller wheels give your table flexibility to move as per the room and kitchen requirement.
Therefore, whether you are living in small spaces or in luxury area, the kitchen table with its clear lines and cuts and simple aesthetics, have the capacity to add multi-functionality in your kitchen.
Via: Decojournal