How about converting you table into a chair or storage rack. LINK allows you to do just that. This innovative and artistic modular system is the brainchild of Christian Sjostrom who reveals that LINK is actually a building kit for adults who want to experiment with their furniture.
LINK's feasibility touches new heights by allowing the user to take charge of the outcome of the system. From choosing the specific shape of the system to its size and arrangement, the end user is in total control as he/she finds out innovative ways to adapt the system into the existing home décor. This, in turn, would promote re-usability while reducing the throwaway mentality that usually accompanies standard, static furniture pieces.
The main highlight of LINK is the use of least parts. The system consists of just three elements aesthetically linked together with the help of ball joints. The designer has taken inspiration from molecular structures to design the individual elements in such a way that they resemble building blocks when connected with each other.
The result is a smart function that uses minimal, hidden parts, which are easy to understand, assemble and use without any instructions. You can be simply fit the round elements, aka rods, with ball joints, while the entire structure can be tightened with a hexagon key. All one would need to do to rebuild the system is to loosen the ball joint and reassemble the rods in the way they want.
Created with a quaint combination of anodized aluminum and ash materials, the LINK system looks dynamic as well as futuristic. The fun part of the LINK is that apart from serving its functional purpose of being a table, bench, chair or storage rack, it can act as simple building structures for your friends to play with.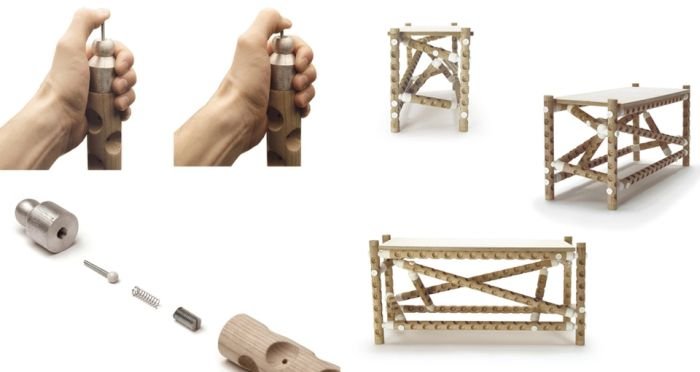 Source: Christiansjostrom