Large furniture pieces takes up a lot of room in your home and moving these pieces around while cleaning or renovating the home become difficult. This is probably why homeowners go for portable furniture these days. Portable furniture units are not just easy to move around but also fully functional for compact homes. Portable furniture units are easy to assemble or collapse when not in use or carry around with you. Here are some fascinating portable furniture designs that reiterate these facts brilliantly.
1. Origami S- Cube:
The Origami S-Cube is an award winning portable furniture design that doubles as both a chair and a stepping stool for kids. Designed by Daisuke Nagatomo, Minnie Jan and MisoSoup Design, the S-Cube is handcrafted from 100% recycled cardboard. Sharp angled lines and a colorful leather finish offers an elegant touch to the design. When not in use, you can simply tuck the light and portable unit with newspapers.
2. Room in a Box Furniture:
Imagine if you could get all the furnishings for your home from a single, small rectangular box. Giving wings to your imagination, Casulo has come up with a challenging design of the "Room in a Box Furniture." The only element of this design is a rectangular box that measures 31×47 inches in dimensions. However, once you open the box, you will dig up a bed, mattress, bookcase, stools and even a wardrobe from it. The individual furniture pieces take just 10 minutes to put together and that too without any tools. When not in use, you can easily tuck the pieces into the box.
3. Bookniture Tables and Stools:
How about making your furniture from books? You heard it right! The Bookiniture furniture collection features pieces that have been made of folding, honeycomb paper structures. When expanded, these structures take the shape of tables, stools, nightstands, side tables or even footrests, and can support the weight no less than 375 pounds. When needed, simply remove the rubber band enclosure and pull out the covers to create the furniture piece you want. Afterwards, simply let them collapse back into the books.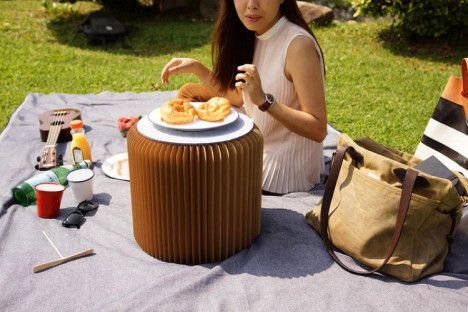 4. Zestdesk Standing Desk and Monitor Stand:
A healthier option for those with computer jobs would be to stand while working. The Zestdesk standing desk and monitor stand aims to create this scenario by featuring a desk that would encourage you to stand and work, thus increasing your body movement and improving body posture. The lightweight, portable design can easily adjust to different work surfaces and contains a height adjustable monitor stand to help you stand tall and engage more of your muscles as you work. When not in use, you can easily tuck the table into a case.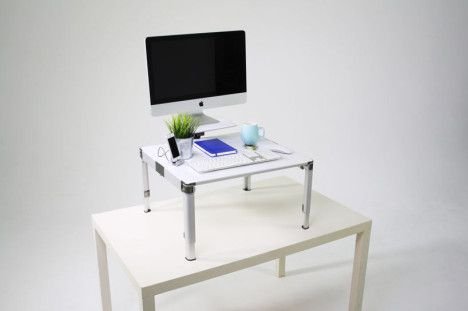 5. Inflatable Furniture:
Designed by Philipp Beisheim, this futuristic portable furniture design uses the basic principle of inflation to help you blow up your furniture (not in the wrong sense though). The furniture pieces, in this case, are made of a high-grade neoprene polyester fabric called Hypalon. To use these pieces, all you need to do is blow some air into them using a pump. When not in use, you can simply remove the air, fold up the furniture and tuck them away in a cupboard.
6. Boxed Adaptable Furniture:
This multifunctional unit can play the role of more than one piece, including a desk, lamp, coffee table and two stools. When switching between these elements, all you need to do is extend a part of one piece to form the other. If you are not using them, you can simply fold back the elements to their basic form and store them in a carry case.
7. Foldable Chair and Table:
How often we thought about the prospect of working under the open sky in a beautiful park filled with greenery all around us? Such spots are hard to come by these days, so you need to have a foldable chair and table, should you get chance to stumble upon one. This portable furniture design features a series of tubes and discs that you can assemble to form a circular side table and stool. When not in use, the lightweight design is easy to disassemble. Simply remove the tubes and tuck away the discs into a small carry case.
8. Mobile Bedcube:
It becomes hard to maintain the privacy of your bedroom in an open studio apartment. Addressing the issue designer Du Cote De Chez Vous has come up with a compact unit called the Mobile Bedcube to ensure privacy even in an open space. The large sized box is portable, as it comes with wheels for easy movement. Featuring high walls on three sides, it becomes an instant bedroom to accommodate guests or create a private area for the bedroom. The inner wall of the Bedcube also features a projector screen that allows you to watch movies while in bed.