3D printing – the very term alludes to a synthetic process of modern times to achieve complex contoured details of three-dimensional objects. But what if such a synthetic process could be used to replicate an organic pattern? Well, the designers at MALINKO (headed by Marta Cherednik) have successfully contrived such a wondrous pattern with their utterly intricate Plankton Lamp.
Inspired by diverse ocean microorganisms that are collectively known as Plankton, the organic detail of the lamp manifests itself through its unique form that marries abstruseness with craftsmanship. Suffice it to say, the entire pattern was achieved by 3D printing, while the material used for the construction entails a special nylon based powder with high durability.
As can be comprehended from the complexity of the structure, the crafting procedure went through a whole lot of sophisticated techniques. According to the designers involved – it took around 4 months of solid modelling and a whopping 3 prototypes, before they could arrive at the end result they wanted. Finally, a unique 3D printing process was developed and streamlined to meet the demands of commercially manufacturing the Plankton Lamp (as opposed to just making prototypes).
The product in its ultimate stage boasts of fine-form credentials with its 'soft, velvet touch', along with a specially designed lamp holder and braided cords that match with the aesthetic quality of the entire lamp. As for the more practical features, the fixture comprises of energy efficient LEDs for the lighting purpose.
And, even beyond the scope of physical attributes, there is a clear-cut symbolic essence to the whole Plankton Lamp design. In the marine world, plankton organisms play their vital role in producing oxygen, while also serving as a crucial food source for larger water-based animals. This alludes to a symbiotic system of natural sustainability. Likewise, the creation process and the resources used for the Plankton Lamp hint at synthetic sustainability – with locally sourced materials and an energy efficient manufacturing technique.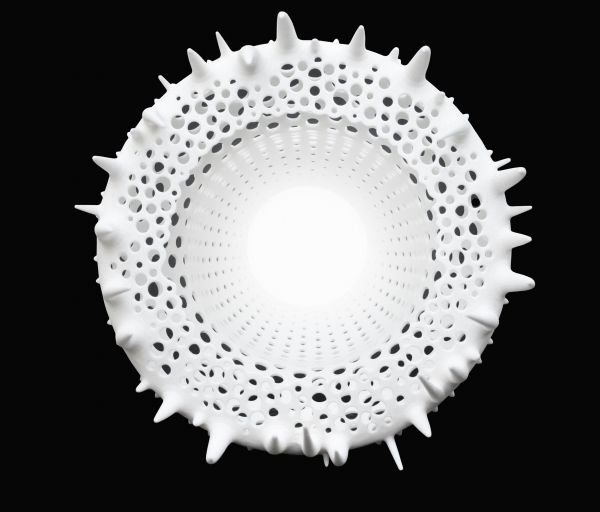 Source: Sydneydesignawards