Vibrant, sprightly and fun – this in a nutshell defines the Legato, a kaleidoscopic cabinet system from Swedish design studio Claesson Koivisto Rune (for Casamania). The entire furniture comprises of a series of cabinets that are fronted by the lively color compositions of the simple yet dapper MDF boards.
These stained MDF boards do not actually conform to any regular geometric shape; rather they comprise of chamfered forms with square or rectangular-like bearings. And, in allusion to their name Legato (which means 'tied together' in Italian), the fronts panels are fixed to an inconspicuous storage unit made from sturdy veneered ash.
Lastly, as for Legato's chic nature, there is more to the furniture item than the chromatic caterpillar-like arrangement. According to the designers, the changing shapes of the MDF boards represent musical notes when played without interruption. So in essence, the cabinet system upholds both its vivacity and functionality, all complemented by the intangible 'dynamism' of visual musical patterns.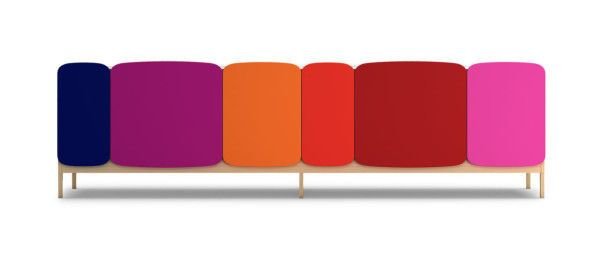 Via: Casamania