Remember the days when life was simple? As a child, when you'd spend your Sunday afternoons listening to stories, while sitting on your grandmother's lap. Or during those chilly winter nights when you would curl up on your favourite Grandfather Chair, with a Jules Verne novel.
Student designer Nanna Kiil has actually translated the warmth and comfort of your grandma's lap or that of a fluffy rocking chair into the Flesh Chair that actually imitates the figure of an overweight person.
Memory foam dressed in a light pink fabric is used to create the cushion for the chair. The expanse of the foam cushion is squished and rumpled in the same way as the wrinkled loose skin of the Shar-Pei dog hangs around its massive body. The countless folds and creases actually look like the floppy layers of stomach fat of an 'affably' obese person
The structure of the armchair consists of a metal framework that is sewn together along the edges of the bolstered seat. Wooden arms and legs, attached to the metal skeleton, indeed create an endearing picture.
Although the Flesh Chair basically looks like a big shapeless lump of fat, it seems to ooze warm, snug comfort in its every crease. Take a power nap on this grandma chair and you will undoubtedly feel pampered.
As a student at The Royal Danish Academy of Fine Arts School of Design, Kiil designed the Flesh Chair as a part of a five-week project. It is currently being displayed at the Greenhouse section of 2014 Stockholm Furniture Fair, ongoing till 8th February.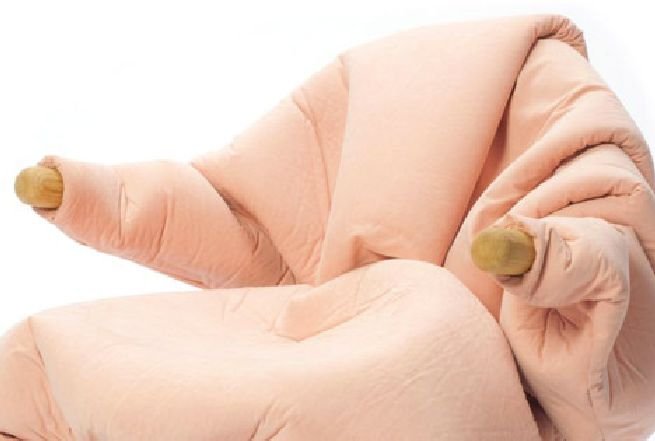 Via Dezeen