Ever wondered what to do with those god-awful chairs with chipped paint that your grandmother gifted you for the housewarming party of your college apartment? You can't sell them on craigslist because they remind you of your dear grandma nor can you hide them forever in your attic.
Well fret no more. With the unique Chair Wear line of slipcovers from the Dutch designersBernotat & Co, your old chairs are as good as new.
Although some people may find the idea of dressing up chairs a bit strange, it is indeed a pioneering creation in furniture upholstery. The idea of the Chair Wear line started taking shape when Anke Bernotat was designing the Triennial Chairfor the Netherlands-based furniture store, Gispen. It is actually a step further, so to speak,  with its very unorthodox yet refreshingly stylish take on chair clothing.
The designers of Chair Wear have as of yet brought out four basic designs, namely Big-Baggy, Pique-Pocket, Knit-net and Hoodini.
The Big-Baggy, made from heavy duty canvas used in overalls and work wear, is marked by its two big back pockets for books and magazines, the two side pockets for iPads, iPhones and other stationary and a loop for hanging headphones.
The Pique-Pocket is like a quilted slipcover, made from a fabric much like that of the oven mitt. There are two large pockets at the back that can act as handrests.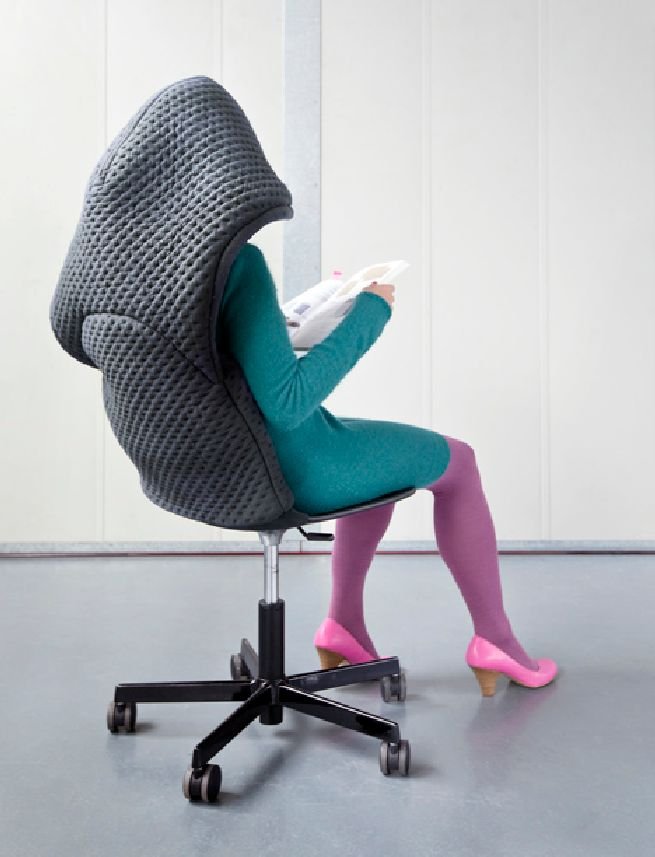 The Hoodini is essentially a hoody for chairs. The multi-functional hoody at the back can be either pulled over one's eyes while one rests, thus obscuring vision, or used as a pouch to store something when it hangs back. The Knit-Net, made from acrylic and wool filled with foam,  imitates the design of the foaming packing of apples. It comes in bright pink color that instantly brightens your room.
What sets the Chair Wear apart from other slip-on covers is that it actually provides a smart and elegant way of recycling old chairs into something that is even better and more comfortable than the original. With its sophisticated design and eye-catching colour, it is indeed a revolutionary home decor accessory in its own right.
To get more information, visit Bernotat & Co's store.
Via Dezeen